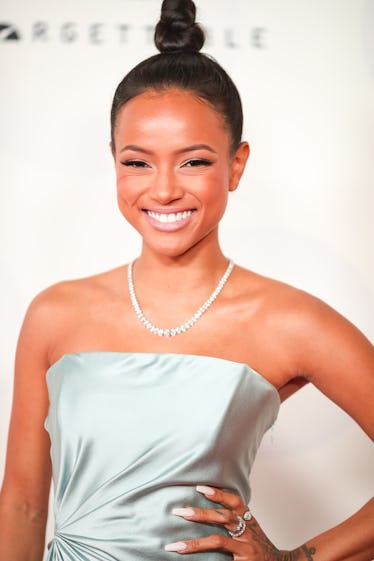 7 Holiday Makeup Looks That Are Glitter-Free & Still Festive AF
Christopher Polk/Getty Images Entertainment/Getty Images
When you think of festive seasonal makeup looks, what comes to mind? For me, sparkles are always involved. From glitzy glosses to shimmery eyeshadows, products with major sheen seem to reign supreme. But not everyone wants to look like a walking disco ball. These five holiday makeup looks without glitter are gorgeous, mess-free alternatives for people who prefer a look that's still statement-making, just maybe not totally blinding. Fear not, they will absolutely still turn major heads.
From bold lips and embellished cat eyes to unexpected colors and dramatic techniques, the looks offer a little something for everyone. If you're an uber daring beauty girl who is not intimidated by geometric liner or electric pigments, you're in for a treat. Alternatively, if you prefer a subtle, less-is-more look, you'll find something you like, too. See which of the styles strikes your fancy below and get ready to experiment with your look like never before.
If you follow runway beauty trends then you might recognize a few of them! Pair any of the below looks with an equally festive holiday dress and you're guaranteed to be the (non-shimmery) belle of the ball at whatever holiday party, girl's night out, or celebratory dinner you have coming up.
Target Practice
This is like a smoky eye, but way cooler. The spots of red eyeshadow over each of her pupils make her eyes completely pop, while adding a festive punch of color to the look. (How killer would it look paired with a little back dress and statement earrings?!) I love the way the rest of the eye is done in a smudgy and rock n' roll-esque manner, and how the lips are left relatively untouched. The super subtly shimmery shade placed at the inner corners of the eye allow for a slightly brightening effect.
Try: Smashbox Cover Shot Palette in Ablaze ($29; sephora.com)
Natural Beauty
This is the ultimate neutral holiday look! The earthy color palette makes the look feel warm and rich, and the slightly winged liner adds a touch of definition to her eyes. You could wear this with literally anything.
Try: Gigi Hadid x Maybelline East Coast Glam Lipstick and Lip Liner Kit ($12; ulta.com)
Just Peachy
The easiest look of the bunch! Hug your eyes with a dusting of a peachy pink blush shade and illuminate the inner corners of your eyes with a slightly lighter shadow. It'll brighten your complexion and give you an overall ethereal aesthetic.
Try: Urban Decay Afterglow 8-Hour Powder Blush in Score ($26; sephora.com)
Cardinal Rule
I mean...this is one (easy) way to make a statement. Load the tip of your finger up with a deep burgundy hue, smudge it around your eyes haphazardly, and watch as the compliments roll in. It's such a bold look that minimal lipgloss and mascara are needed.
Try: Chanel Longwear Powder Eyeshadow in Desert Rouge ($30; chanel.com)
Ice Queen
So much yes to this look. While deep, warm colors are most often associated with holiday beauty looks, cool tones reminiscent of frost and blizzards should be considered too! (There is nothing more beautiful to me than a freshly coated snowscape.) I love the icy update to the classic cat eye, while the royal blue dot right under the pupil gives this look and especially mod and playful effect. It'll certainly turn heads.
Try: NYX Professional Makeup Vivid Brights Liner in Sapphire ($7; target.com)
Berry Good
This is a classic holiday beauty look for a reason! The dark brow and lip combo looks stellar on pretty much every human alive and is super easy to achieve. Opt for a brow gel that's a shade or two darker than usual, grab a plum lip that you love, and don't forget to sweep some highlighter across your cheekbones.
Try: L'Oréal Paris Infallible Le Rouge in Bold Bordeaux ($10; lorealparisusa.com)
Winged Creature
If Batwoman existed IRL, this is how I'd imagine she'd do her eyes for a night out. It's like a mixture of a smoky eye and cat eye, but with added wings for a faux falsies effect on the bottom. It's a dramatic look for sure, and would be perfect to pair with a sexy (dare I say glittery?) New Year's Eve dress.
Try: BH Cosmetics Liquid Eyeliner ($4; ulta.com)