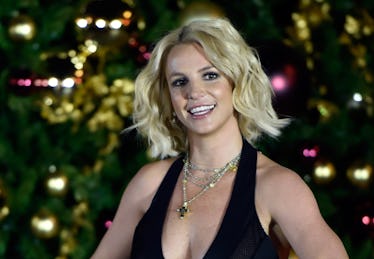 10 Holiday Party Dresses That Aren't Black, Because Your Life Is Colorful AF
David Becker/Getty Images Entertainment/Getty Images
There's nothing I love more in the winter than an excuse to get fancy. In a season where puffer coats and absurdly fuzzy socks reign supreme, I live for the nights that require me to look like an actual grown-ass woman. My annual hunt for holiday party dresses that aren't black is now underway. You see, I already own about 50 LBDs, and compared to the technicolor options that would truly turn my presence into a present at any party, they remind me of sartorial coal. (I wear all or mostly black 80 percent of the time. I live for the color. But the holidays are meant for dazzling excess, so here we are.)
The best thing about holiday parties — aside from endless buffets and drunk people in Santa hats — is that, for the most part, pretty much anything goes in regard to dress code. Spaghetti straps and long sleeves are both welcome; silk, velvet, and feathers are encouraged; sequins are actually considered classy; and capes — CAPES! — find their window of acceptability outside of the Yule Ball. (Dream party.)
Shopping for the occasion is truly the most fun. I did a sweep of the best party dresses out there that will make you feel like the lavish rainbow that you are. From mini to maxi, daring to demure, they're quite the indulgent bunch, so get ready to turn some heads.
The Ziggy Stardust Dress
Metallic Blazer Dress
Zara
$120
David Bowie would be proud. This silver metallic dress is boxy in structure and blinding in hue, and could be repurposed as the perfect New Year's Eve look. Double win!
The Forest Fairy Dress
In case you guys aren't aware, Mango has some good stuff right now. Like, REAL good. This dress' piney hue lends itself well to a more casual holiday party, while its '80s-esque sleeves and boxy neckline give it a strangely Victorian vibe. Paired with the silky red boot? I'm so into it.
The Acute Dress
Every angle is a good angle in this architectural dress. Dress it up with heels and statement earrings, or down with white sneakers and a long wool coat. You can't go wrong with red when it comes to holiday dressing.
The Modern Flapper Dress
Now this is a dress for a party with a dance floor. I love how the sheath of beads falls from just above the bust, giving the dress an illusion of shapelessness until the strands of beads start to move. It's shiny AF too, so no accessories necessary.
The Jetson Dress
If you're one of those girls who buys a silver Christmas tree and adorns it with pink tinsel, this dress is for you. It's a bit futuristic in fabric and '90s in silhouette. It's like that metallic wrapping paper that looks better crinkled, but so wearable.
The Boho Dress
A billowy bohemian dress done party style. Thanks to its velvety sheen and deep color palette, what would normally be a casual warm weather look is transformed into the perfect holiday piece for the Cali girl in all of us.
The Disco Dress
It's slinky, shimmery, sexy, and bright — everything the perfect party dress should be. Pair it with hoop earrings and platforms for an especially retro effect.
The Sweetheart Dress
Again, you can't go wrong with red during this time of year! Slightly more romantic in stye, I love this dress' soft pleats and romantic ruffles.
The Liquid Metal Dress
Everything about this is so, so good. (Mango again!) The draping of the skirt is impeccable and, seeing as I'm smaller chested, I love the shapelessness of the bodice. It's effortless but looks expensive. Yes, please.
The Going For Gold Dress
Yes, it's shiny, and yes, the pleated skirt rules. But my favorite thing about this dress? It looks comfy AF. Time to charge the dance floor.