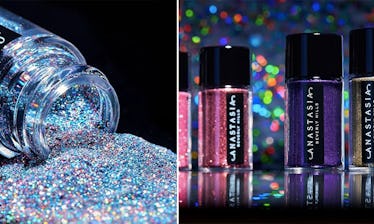 This Cult-Fave Brand Just Dropped Loose Glitter & It Couldn't Look More Glorious
trendmood1 on Instagram
When I was about 13 or so, I had an entire Caboodles case filled with different colored loose glitters. I mixed them with my body lotions and lip glosses and wore them all over my lids. Since then, glitter has become an underrated part of our beauty routines. I admit it though: I'm pushing 30 and I can't just douse myself in glitter anymore, but there's no better time to get my sparkle on than holiday. And lucky for me (and you), Anastasia Beverly Hills loose glitter is here, just in time for glitter season (I'm of course talking about all the holidays from Halloween to New Years Eve).
There's no doubt every brand is gearing up to release holiday collections, all drenched in glitter, but the new launch by Anastasia Beverly Hills isn't just your average highlighter or eye shadows with a shimmery finish — they're loose pigments, glitter in the pure form, packed in a vial, ready to be applied anywhere from your eyelids to your fingertips.
And considering these have been in the works since at least December of last year, the consistency must be damn near perfect. Anastasia Soare and brand president Norvina shared a sneak peak of an entire lineup of glitters in all their Kira-Kira glory with the caption "Trying to make 2018 ✨✨." And finally, nine months later, the final product is packaged and ready to be shipped.
The glitters will be available in eight shades and each one will come in a single 5.4 gram size. Shades "Royal," "Electric," "Mystic Teal," "Blazing Sunset," "Party," "Pink Sapphire," "Star Power," and "Crystal Cave" will all retail for $15 each.
Do as I did back in my teenage days, and mix your loose pigment glitters with body lotion, clear nail polish, lip gloss, or face cream (for a DIY liquid highlighter), or wear them as a super sparkly eye shadow. But if you plan to apply it to your lids, you'll need something to stick the loose glitter on.
Thankfully, our friend Anastasia thought of everything. The brand is also launching an easy-to-use brush-on glitter adhesive for $18. Swipe it on your lids, lips, brows, anywhere before patting on the loose glitter with your finger or a brush.
With eight shades of loose glitter under their belt and a clear glitter adhesive, there's no limit to the makeup looks you can create. The hardest part will just be picking your favorite shades. Scroll down for swatches of all the shades on three different skin tones. I think my favorite shades are "Mystic Teal," a deep emerald glitter, "Star Power," a metallic gold, and "Party," a mix of silvers and rainbow shimmers with a blue undertone.
The Anastasia Beverly Hills glitters and glitter adhesive will be available for purchase on the brand's website on September 25. On October 9, you can find the products online at their retailers like Sephora's website. And finally, you can find all of the above in stores by October 12. Get ready for a lit holiday season.