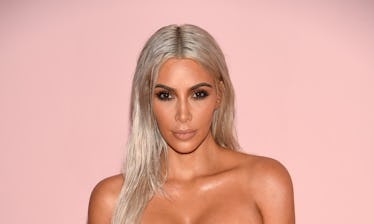 Kim Kardashian Shared An Instagram Pic Of Saint Kissing Chicago & It's So Cute
DIMITRIOS KAMBOURIS/GETTY IMAGES ENTERTAINMENT/GETTY IMAGES
You can't help but adore the Kardashian's kids — especially when their parents give us unexpected, inside glimpses of the bonds they have with one another. Honestly, it's always a heartwarming experience. That's why I'm totally fanning out over Kim Kardashian's Instagram of Saint West kissing Chicago that she uploaded on Saturday, March 31. Seriously, the photo is so cute that you can't help but gush over it.
In the pic, Sainty is shown hovering over his tiny baby sister, planting a gentle smooch on her nose as she lies sleeping. And I have to add that Chicago looks super cozy, as she's tightly wrapped in a plush-looking white blanket. Kardashian captioned the photo, "He loves her so much," and obviously, it couldn't be any more fitting.
In usual fashion, her fans swiftly commented on the post, drawing comparisons between Saint and his nearly-identical big sister, North. Other comments were from fans who couldn't help but gush over how lengthy Saint's eyelashes are. (No, seriously. Is there a formula that has this same effect or what??) And others raved about just how precious the moment truly was, accompanied by massive amounts of heart-eyed emojis to prove it. Just take a look to decide for yourself.
IKR!
The post is one of the first glimpses we've seen of Chicago.
Back in February, Chicago made a brief cameo during Kylie Jenner's "For Our Daughter" video, in which the lip kit mogul announced that she was pregnant (and had delivered her baby) after months of speculation. We also saw a teeny, tiny peak of Chicago while Kardashian was on her way to a doctor's appointment that same month, but neither did any justice in revealing what Chicago really looked like. However, on Feb. 26, we finally got a full look of Kardashian's baby girl in an Instagram post from the mom-of-three and it was so, so adorable.
The photo showed Kardashian and her gorgeous daughter cuddling together and rocking a filter with fuzzy, pink ears and a button nose.
And are those matching outfits? *Swoons.*
In November 2017, during an interview with Entertainment Tonight, Kardashian reportedly said,
You know, it is really different. Anyone that says or thinks it is just the easy way out is just completely wrong. I think it is so much harder to go through it this way, because you are not really in control.
... Obviously you pick someone that you completely trust and that you have a good bond and relationship with, but it is still … knowing that I was able to carry my first two babies and not my baby now, it's hard for me. It's definitely a harder experience than I anticipated just in the control area.
Though surrogacy was admittedly a struggle for Kardashian, she later revealed that she was totally grateful for the experience. On January 16, Kardashian took to Twitter to announce that Chicago had been born the day before and thanked her surrogate for making her "dreams come true." She wrote,
Kanye and I are happy to announce the arrival of our healthy, beautiful baby girl. We are incredibly grateful to our surrogate who made our dreams come true with the greatest gift one could give and to our wonderful doctors and nurses for their special care. North and Saint are especially thrilled to welcome their baby sister. Love, Kim Kardashian West.
Her little clan is so cute. Now, all we need is a pic of an interaction between North and Chicago and I'll be all set.