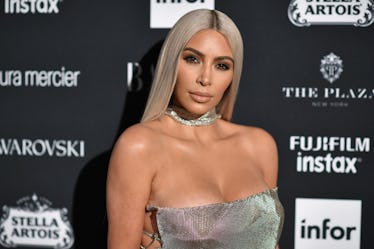 Kim Kardashian Shared A New Pic Of Chicago West & OMG, It's Cute
Dimitrios Kambouris/Getty Images Entertainment/Getty Images
Good morning, everyone! To kick off our Saturday on an adorable note, Kim Kardashian decided to share a picture of her baby girl on Instagram. The photo she posted on Saturday, March 17 around 10:15 a.m. shows her third child welcoming the weekend with a smile. That's right: Kim Kardashian's photo of Chicago West waking up is seriously cute, and it'll totally brighten up your morning.
The photo Kardashian West shared on IG shows Chicago West — who is 2 months old — lying in bed wearing a pink onesie and a white bib. Based off her grin, it sure looks like she's a happy baby. Kim K posted the photo with a caption that says "Morning cutie," along with a little pink heart.
Of course, Kardashian West's fans couldn't help but swoon over the picture. In fact, a lot of Instagram users commented on the post saying that Chicago West looks like her more than Kanye. Other comments rave about how cute Chicago West is. Either way, everyone seems to agree that the picture is adorable.
Of course, this isn't Chicago West's first Instagram appearance. If you've been keeping up with the Kardashians (Kim, specifically), you'd know that she already shared a photo of Chicago West on her Instagram in February.
The photo posted on Feb. 26 shows Kardashian West holding Chicago West with one arm, and seemingly taking a selfie with the other. Both West ladies are wearing comfy white ensembles and have adorable pink bear features (thanks to Snapchat, of course). Kim K's caption on the picture says "Baby Chicago."
Believe it or not, the photo Kim K posted in February wasn't the first glimpse of baby Chi that the internet got. In fact, the first photo of Chicago West was taken by paparazzi and shared on Friday, Feb. 2 by TMZ. Apparently, the picture was taken while Kardashian West was on her way to a doctor's appointment in L.A. on Thursday, Feb. 1. Before you get your hopes up, understand that the "photo of Chicago West" didn't exactly show too much of Chicago West. Instead, it only showed a teeny, tiny glimpse of her face while she was sitting in her stroller. However, the photo clearly showed Kim K reaching into the carriage wearing grey sweatpants, a white crop top, and some snakeskin heels. (This is unrelated, but I really want those heels.)
Now that you're up to date on a few of Chicago West's public appearances, let's make sure you know a little more about how the bundle of joy came into the world. Kim Kardashian and Kanye West had Chicago West via a surrogate, and she was born on Jan. 15, 2018. The news came on Jan. 16 through a report from TMZ — and shortly after, Kim K released a statement about Chicago's birth:
January 15, 2018, 12:47 a.m., 7 lbs 6 oz. Kanye and I are happy to announce the arrival of our healthy, beautiful baby girl. We are incredibly grateful to our surrogate who made our dreams come true with the greatest gift one could give and to our wonderful doctors and nurses for their special care. North and Saint are especially thrilled to welcome their baby sister. Love, Kim Kardashian West.
Now, Chicago West is Kim and Kanye's third child. Chicago's siblings include North West, who is 4 years old, and Saint West, who is 2 years old. Based off Kim K's statement, each child is "thrilled" to have Chicago West as their baby sister.
If you're curious to see more photos of the newest member of the Kardashian West family, keep an eye on Kim K's social media accounts.