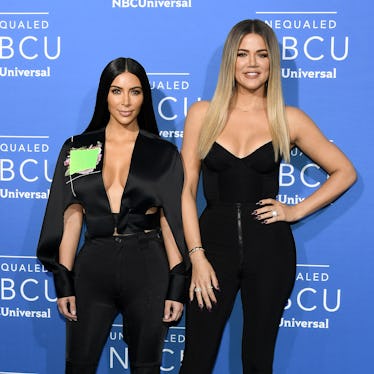 Kim Kardashian Might Be Throwing Shade At Khloé Kardashian's Fans With This Photo
Dia Dipasupil/Getty Images Entertainment/Getty Images
To say Kim Kardashian is meticulous about her Instagram would be an understatement. The mother of three carefully chooses and edits her photos to go along with a certain "vibe" she's feeling, and scrolling through her account, you can tell how much attention she puts into her page's aesthetic. Fans have been calling her out for this recently, however, because she was posting vacation pictures all while Khloé Kardashian was dealing with Tristan Thompson cheating rumors and going into labor. But Kim Kardashian's Instagram caption about Khloé Kardashian might be throwing shade at people who threw shade at her.
Khloé Kardashian revealed the name of her baby girl, True Thompson, on Monday, April 16 in an Instagram post. The caption read, "Our little girl, True Thompson, has completely stolen our hearts and we are overwhelmed with LOVE. Such a blessing to welcome this angel into the family! Mommy and Daddy loooooove you True!" On the same day, Kim Kardashian posted a photo of her, Kourtney Kardashian, and KNC Beauty founder Kristen Crawley from their Turks and Caicos vacation and captioned it, "We're on our way sis..." While this doesn't seem like the shadiest caption in the world, she could be semi-responding to the hate she got for not posting enough about Khloé last week. While Kim and Kourtney were posting vacation photos, Khloé was going through the wringer with her relationship with Tristan Thompson and giving birth to her daughter. People felt her sisters should've been posting about her, if at all.
Kardashian posted this shot from her Turks and Caicos vacation on Monday, April 16.
Kris Jenner, Kim, and Kourtney Kardashian were all in Cleveland when Khloé gave birth, but Kim and Kourtney reportedly went back to L.A. the next day. TMZ reports Kim, Kourtney, and Kendall were seen arriving in Cleveland on Monday, April 16 to support Khloé and baby True, so Kardashian's "We're on our way sis..." caption could've been Kardashian's way of telling fans to chill out.
The tweet read,
@khloekardashian I'm so happy for you! Your baby girl is so beautiful! You are so strong, you made that look so easy! I can't wait for our baby girls to grow up as best friends the way we are! I'm so happy I was able to return the favor of holding your leg while you pushed LOL
She posted a follow-up tweet saying, "You guys she's so gorgeous!!!!!"
Sure, maybe Kim could have focused more on Khloé when it came to her social media posts, but she was literally in the delivery room holding Khloé's leg while she pushed... so, let's not hold social media against her in this case.
Before her tweet about Khloé giving birth, fans were annoyed she was tweeting about her vacation when there was a huge elephant in the room.
But Khloé was surrounded by family while she was giving birth. And let's be real: the Kardashians have their tweets, Instagram posts, and Instagram stories scheduled to a T at all times. I'm willing to bet Kim's tweet about her Turks and Caicos post on her app was either a previously-scheduled post or was posted by the person who runs Kim's Twitter. Kim most likely tweets on her own a lot of the time, but I have a hard time believing Kim's tweets about her app aren't automated, so let's all just chill about this. It ain't that deep.
Khloé Kardashian revealed her daughter's name in an Instagram post on Monday, April 16.
Kris Jenner posted the same photo to her Instagram and revealed the family meaning behind the name True. She said,
I'm so excited to welcome my precious little granddaughter True!!! FUN FACT... my Grandfather's name on my Dad's side was True Otis Houghton....my Dad's name was Robert True Houghton...so i am so excited Khloe named her daughter True!!!
Khloé did say she wanted to try and stick to family tradition when naming her daughter, but she was leaning more toward a name that started with T instead of K. The name True seems to be a perfect fit since it has Tristan Thompson's initial accompanied with Khloé's family history. Congrats to the new mama!