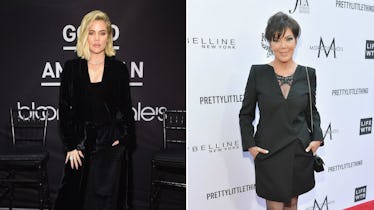 Kris Jenner Just Revealed The True Story Behind Khloé Kardashian's Baby's Name
Neilson Barnard/Getty Images Entertainment/Getty Images/ Jamie McCarthy/Getty Images Entertainment/Getty Images
In the sweetest Instagram post on April 16, Kris Jenner clued fans in on the family history behind Khloé Kardashian's baby name. And while it might not look like a traditional name, clearly, appearances can be deceiving. "True" is a Kardashian family name, according to Grandma Kris Jenner, and it's pretty darn adorable.
As we all already know by now, Kardashian gave birth to a little baby girl on April 12 with boyfriend Tristan Thompson. As part of Kardashian's birth announcement on Instagram on April 16, she revealed the name of her daughter: True Thompson. The same day, Grandma Jenner posted a photo of a bunch of pink balloons, with a caption welcoming her new granddaughter into the world, congratulating the new mom and dad and giving us a clue or two into the unusual moniker that Kardashian had picked for her little girl.
Jenner also explained that "True" is actually a family name — Jenner's paternal grandfather's name was apparently "True Otis Houghton," while her father's name was "Robert True Houghton." Jenner wrote,
I'm so excited to welcome my precious little granddaughter True!!! FUN FACT... my Grandfather's name on my Dad's side was True Otis Houghton....my Dad's name was Robert True Houghton...so i am so excited Khloe named her daughter True!!! #lovebug#familytradition#family@true
That's pretty adorable that Kardashian has decided to bring back the tradition... and with a girl! Jenner also revealed that little baby True will have her own Instagram (spoiler alert: it's empty but it still has more followers than I will ever have in my lifetime)?
Kardashian first posted about True on Monday April 16, several days after she was reported to have given birth. She welcomed her little girl into the world on Instagram, writing, "Mommy and Daddy loooooove you True." She wrote,
Our little girl, True Thompson, has completely stolen our hearts and we are overwhelmed with LOVE. Such a blessing to welcome this angel into the family! Mommy and Daddy loooooove you True!
But things between Mommy and Daddy might be a little rocky lately. On April 10, just two days before Kardashian gave birth, rumors started to whirl that Thompson had allegedly been cheating throughout Kardashian's pregnancy, after The Daily Mail reported he was spotted in a New York City club kissing another woman while Kardashian was in Cleveland, Ohio getting ready to give birth. Neither Thompson nor Kardashian have publicly responded to the rumors.
According to Entertainment Tonight, however, the couple is not going to let the cheating scandal get in the way of their new family. A source shared that Kardashian reportedly doesn't plan on breaking up with Thompson. Instead, they would like to move past it. The source reportedly said,
They are both 100 percent committed to moving past this and focusing on the overwhelming joy they have in their life right now with their new daughter. Tristan knows he's got to step up now though and can't screw up.
But what does Grandma Jenner have to say about Kardashian's decision to stay with Thompson and try to make it work? A source told Entertainment Tonight that Kardashian is in a bit of a fragile state having this scandal come out as she gave birth to her daughter. In order to get through it, Kardashian is supposedly relying on Jenner to "[keep] her spirits high." Kardashian is also relying on her mother to show her "the ropes." The source shared,
Khloe needs her mom more than ever now. Everyone has always seen Khloe as the strongest sister, but in light of the new baby and the timing of Tristan's cheating scandal, having her mom by her side has been so essential in keeping her spirits high. Khloe and Kris are spending true bonding time with the new baby. Kris is teaching Khloe the ropes when it comes to breastfeeding.
Well even during tough times, as a new mother it's good that Kardashian has her own mom by her side. Hopefully Kardashian works this out and enjoys her new life with her little girl. Now, excuse me while I go obsessively refresh True's Instagram page.