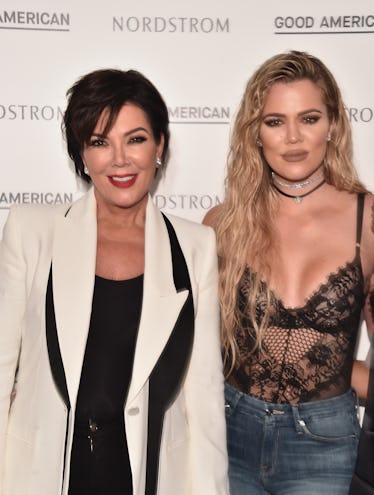 Kris Jenner's Update On Khloe Kardashian's Pregnancy Is So, So Exciting
Alberto E. Rodriguez/Getty Images Entertainment/Getty Images
Baby Thompson Day is rapidly approaching. Fans know Khloé Kardashian and Tristan Thompson are nesting in their Cleveland home during the last weeks (or days) of pregnancy in preparation for their first child to arrive. Fans have been trying to sleuth out as many baby details as they can, and luckily, Khloé's mom just dropped some. Kris Jenner's update on Khloé Kardashian's pregnancy confirms there's no baby yet, but, everyone is doing well and can't wait to meet the new family member.
The public doesn't know her official due date, but it's looking like KoKo's koko will arrive sometime this April. Like, any day now. Seriously. Kardashian's been busy doing a whole lot of nothing, posting hilarious pics rolling around on her pregnancy ball, and updating her app with fun little pregnancy tidbits here and there. Mainly, she's playing the waiting game. Kris Jenner recently confirmed to Entertainment Tonight there's "no baby, yet."
Jenner said, "I'm excited. I think [she's ready], so we'll see. When you have your first baby, you're scared." Jenner added Kardashian seems "sick" of her family's advice. Jenner continued,
I give her so much advice [that] she's sick of me... Yeah, we all give her advice because, you know, most of us have had a child or two in this family.
To be honest, it does sort of sound like everyone has a lot to say. Kardashian admitted during an interview with ET her sisters have weighed in heavily with their parenting advice. She told ET's Keltie Knight,
[I got] a lot [of advice from my sisters]. Too much. I've gotten to the point... I'm like, 'OK, shut the f**k up and take your own advice.' Like, I love Kourtney, but... I'm going to figure it all out, I promise you. We're all going to learn. So some advice is great, but it's also not what you say, it's how you say it.
If any one family member is pulling to the head of the advice pack, it sounds like Khloé's big sister Kim is in the lead. Khloé even admitted on her blog she feels her parenting style will most resemble Kim's, and it seems like Mrs. Kardashian West agrees.
Kim told ET her and Khloé "have a really good thing going on right now." She explained, "I'm like the real one with her [about] what goes down and how it's going to go down."
Kim said,
You cannot tell her anything right now that's too sensitive because she's just so freaked out. So, I can't really get into the whole, like, nipples and breastfeeding thing. She's just going to have to figure that all out and slowly... It'll be fine. She knows. She's seen all of us go through it. She's prepared, but I feel her and I are on a really good communication about everything. I know when to push it and when to... right now isn't a time to freak her out. The closer it gets, you can't freak someone out.
Well, I'm glad SOMEONE is in control here. Because I'm in full-on hysteria.
Once Baby Thompson arrives, that will be the end to the great Kardashian Baby Boom of 2018, as far as fans know. Baby Thompson will join her new cousins, Stormi Webster and Chicago West, as the youngest pack in the famous family, giving fans more things to obsess over in the Instagram pics, tweets, and Keeping Up With The Kardashians episodes to come.
Check out the entire Gen Why series and other videos on Facebook and the Bustle app across Apple TV, Roku, and Amazon Fire TV.