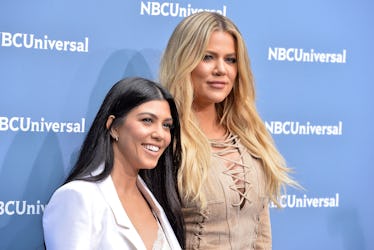 Khloé Kardashian May Be Shading Kourtney With This Comment About Her Parenting Style
Slaven Vlasic/Getty Images Entertainment/Getty Images
As we slowly but surely count down the days to Khloé Kardashian's due date, the reality TV star seems to be passing her time hanging out in Cleveland and updating her website. Most recently, she posted a message detailing which sibling she will likely take after most as a parent, and her answer is not surprising. According to the Revenge Body host herself, Khloé Kardashian's parenting style will be most like her big sister Kim's. But what about Kourtney?
Kardashian has been using her app and website as a means to update her fans on what's going on with her pregnancy and all of her thoughts and feelings about motherhood. On Wednesday, March 28, she popped in to talk about how excited she is to be nine months pregnant and to weigh in on her parenting technique. She wrote,
I can't believe my little girl will be here soon! These past nine months have flown by, and I've loved every minute of it. So far my pregnancy has been super easy and I'm so beyond thankful for that. After my first trimester everything has been a breeze.
Before signing off, she added, "The sister I think my parenting style will be most similar to is: Kimberly."
Geez, way to sugar coat it, KoKo.
It makes sense when you consider how Khloé's talked about the helpful (and unhelpful) advice she's received from her family in the past. Shortly after announcing her pregnancy on Instagram, Kardashian spoke with Entertainment Tonight about all of the input she received from her family at the time. She said in a Jan. 4 interview, "[I got] a lot [of advice from my sisters]. Too much." Kardashian confessed. "I've gotten to the point... I'm like, 'OK, shut the f**k up and take your own advice.'"
Specifically, Khloé said Kourtney's advice was a little bit of a drag.
Like, I love Kourtney, but... I'm going to figure it all out, I promise you. We're all going to learn. So some advice is great, but it's also not what you say, it's how you say it.
Khloé brought up Kourtney's annoying habits again on Jimmy Kimmel Live! in January, when she described how overbearing her big sister can be. She told Kimmel, "A lot of [advice] is unwanted. I don't know if it's the worst, but Kourtney gives a lot of advice. I think it's so sweet but I don't want to do some of that stuff!"
For example,
[Kourtney says] you can never have a plastic toy, ever! If someone buys blocks, I'm allowed to have blocks! Let me experience things. It's either her way or no way.
She added, "We've been fighting a lot lately. We never fight."
A source also recently told People on March 20 that Khloé has been leaning most heavily on Kim, and that her youngest sister (and newest mom) Kylie is too new to motherhood to really weigh in. The insider explained, "Khloé has really only been asking Kim for advice. She agrees more with Kim's parenting style than Kourtney's. [Khloé]'s also older and more mature than Kylie so her approach will be different than a very young mom."
The source added,
Khloé and Kylie aren't comparing notes per say but they've definitely talked about how they've been feeling. Kylie's obviously recently gone through what Khloé is going through now and they've only gotten closer as sisters through this experience.
Despite all of the talk over who gives the best advice, Khloé seems to be really excited to learn a lot of it on her own. The People insider shared, "Khloé also wants to navigate motherhood in her own way and isn't really looking for other people to butt in. Khloé mostly wants to do things herself when the baby arrives."
Listen, I hear you loud and clear, Khloé. I promise to not weigh in on your parenting techniques if you promise to keep me posted on every detail about being a new mom, including but not limited to: exclusive photos of your daughter's hands and feet, what breastfeeding is really like, and what happens when your baby gets the hiccups. Please and thank you.
Check out the entire Gen Why series and other videos on Facebook and the Bustle app across Apple TV, Roku, and Amazon Fire TV.