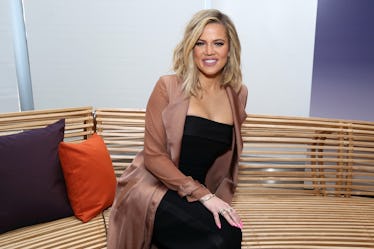 Khloé K Revealed How She's Passing Time While Waiting To Give Birth & It Sounds Relaxing
Cindy Ord/Getty Images Entertainment/Getty Images
Khloé Kardashian may have been MIA from all of her sisters' Snapchat videos over the Easter weekend, but it's now three days later and we still don't have any confirmation that she's actually had her baby. Could the mama-to-be just be laying low in Cleveland with boyfriend Tristan Thompson and enjoying her last few moments before baby? While rumors are swirling that the Revenge Body star's lack of any real social media presence recently means she may have already gone into labor, we now know that Khloé Kardashian is watching Billions while waiting to give birth to her baby girl, and I am seriously loving this new development because that show is straight fire.
"It's the final stretch of my pregnancy," Kardashian wrote on her app on April 4. "Day by day, it gets harder and I get more impatient — not to mention more uncomfortable. So, while we wait, I have to stay busy. I'm not the type to lay around all day and be lazy (when I do, I get a little crazy)."
Same, girl. Same.
"In Cleveland, we have a very similar routine every day," she went onto explain in her post. "Every day, I go for a 45 minute walk (I'd actually call it more of a stroll, LOL). Tristan and I have also been watching Billions. It's such an incredible show — we LOVE it! We just finished Season One. It's such a good show to binge-watch."
Couldn't agree more. And I can totally picture Kardashian and Thompson chilling in their California King as they watch to see what high-stakes move Bobby Axelrod will pull off next, can't you? Though TBH, I'm totally jealous they still have all of Season 2 to work their way through, because as a fellow binge-watcher, waiting for new episodes of Season 3 to drop each week has been pure torture. And I don't mean that in a Chuck and Wendy Rhoades sort of way.
On April 3, the Calabasas native shared another post on her app about how happy she is to be in Cleveland right now, as opposed to traveling back and forth to Los Angeles.
"I obviously love both cities," she explained. "But I will say I'm with Tristan and I get my home time — cooking, being with my love, and just more of a routine. In L.A., I'm SWAMPED with work."
"But then again," she added, "I love being in L.A. because I get to see my sisters and my mom, and I have my trainer and the people that I've grown up with. So there are perks to both cities for me!"
Aww, it must be so hard for KoKo to be so far away from the rest of the Kardashian-Jenner crew during such a special and exciting time in her life. I can't even begin to imagine what that must be like for her, since she usually does pretty much everything with her sisters!
Luckily, a source told People back in March that Khloé is planning to bring her whole fam to her in Cleveland for her daughter's birth — because duh, of course she is!
"Her family is flying to Cleveland when it's baby time," the source revealed. "Khloé especially wants Kris there for the birth. [Khloé] is a bit nervous about the birth, but mostly excited. She is taking it easy in Cleveland, getting everything ready and she can't wait to meet her baby girl."
Meanwhile, big sis Kim doesn't seem too worried about Khloé becoming a mom. "It'll be fine," she recently told Entertainment Tonight. "She's seen all of us go through it. She's prepared."
Best of luck, Khloé!