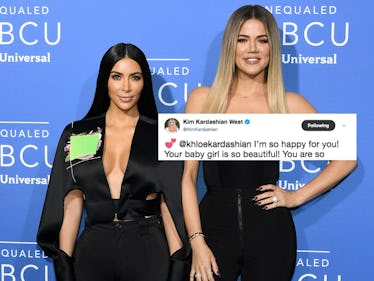 Kim Kardashian Had The Most Hilarious Tweet About Being In The Delivery Room With Khloé
Dia Dipasupil/Getty Images Entertainment/Getty Images
Ahhh, sisterly love. Khloé Kardashian welcomed her baby girl into the world in the early morning hours of April 12, as reported by TMZ, and her mother and sisters were there to support. Like, really support. Kim Kardashian's reaction to Khloé Kardashian giving birth is honestly amazing, and it's equal parts beautiful and hilarious.
Kim K took to Twitter on Friday, April 13 to give her congratulations to her little sister for giving birth to her daughter. The tweet read,
@khloekardashian I'm so happy for you! Your baby girl is so beautiful! You are so strong, you made that look so easy! I can't wait for our baby girls to grow up as best friends the way we are! I'm so happy I was able to return the favor of holding your leg while you pushed LOL
Leave it to the Kardashians to get up close and personal with each other, even in the delivery room. But honestly, can you love these two more? Kim K was there for Khloé during her delivery, much like how she has been a big help during Khloe's pregnancy. A source told People on March 20:
Khloé has really only been asking Kim for advice. She agrees more with Kim's parenting style than Kourtney's.
Kim K also tweeted about just how cute Khloé's baby is.
Khloé mentioned that her parenting style would closely mirror Kim's in a post to her app on Wednesday, March 28. In the post, she wrote,
I can't believe my little girl will be here soon! These past nine months have flown by, and I've loved every minute of it. So far my pregnancy has been super easy and I'm so beyond thankful for that. After my first trimester everything has been a breeze.
At the end of the post was a little Q&A, and one question read, "The sister I think my parenting style will be most similar to is: Kimberly."
Kim also commented on how well she and Khloé were getting along during Khloé's pregnancy. She told Entertainment Tonight on April 2,
Khloe and I have a really good thing going on right now ... I'm like the real one with her [about] what goes down and how it's going to go down.
Kim continued, saying,
You cannot tell her anything right now that's too sensitive because she's just so freaked out. So, I can't really get into the whole, like, nipples and breastfeeding thing ... She's just going to have to figure that all out and slowly.
But where's Kourtney in all of this? According to the TMZ report, Kourt was in the delivery room with Khloé and Kim as well. But, Khloé made it a little obvious during her pregnancy that she didn't agree with her oldest sister's parenting style. In a Jan. 4 interview with Entertainment Tonight, Khloé said,
Like, I love Kourtney, but... I'm going to figure it all out, I promise you. We're all going to learn. So some advice is great, but it's also not what you say, it's how you say it.
Who knows, maybe Kourtney was holding Khloé's other leg? I'm gonna go ahead and assume Tristan Thompson probably wasn't. In case you haven't heard, an April 10 report from The Daily Mail claims Thompson cheated on Khloé Kardashian while in New York City with the Cleveland Cavaliers the weekend of April 7. Elite Daily reached out to Kardashian and Thompson's teams regarding the report but did not hear back by the time of publication.
It's nice to know that in a time like this, Khloé's family has her back. And now, she's got a new member of the family to love on. Kongrats, Khloé!