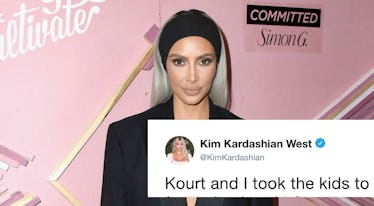 Kim Kardashian Is Really Getting Dragged For Her Tweet After Khloé Gave Birth
Vivien Killilea/Getty Images
Everyone is in full Kardashian mania right now because Khloé just gave birth to her first baby, but you would not know about that looking at Kim Kardashian's Twitter account. Kim tweeted some vacation pics just a few minutes after the birth of Khloé's baby was announced, and the tweets about Kim Kardashian's post after Khloé Kardashian gave birth are too good.
As everyone with a WiFi connection knows, Khloé Kardashian announced the birth of her first child on Thursday morning. Immediately, the entire Internet exploded, since fans have been waiting for this birth announcement for weeks... and even before the reveal that Khloé was pregnant, Keeping Up With the Kardashian fans were hopeful that Khloé would one day have a baby of her own after she opened up about her desire to give birth despite fertility issues multiple times on the reality show. Oh, and not to mention those rumors about Tristan Thompson cheating on Khloé Kardashian, which took over the Internet just days before Khloé gave birth to the couple's daughter.
For all those reasons, Twitter blew up right after Khloé Kardashian's birth announcement reached the website, but one very notable person who was tweeting about something other than Khloé's newborn daughter was her big sister Kim Kardashian. About a half an hour after Khloé's birth announcement took over the Internet, Kim posted a relatively harmless tweet about her spring break trip to Turks and Caicos with Kourtney Kardashian and their kids. Under normal circumstances, the tweet would be met with interest and support from her nearly 60 million followers, but since it came so closely after Khloé's birth announcement and Kim had not yet commented on her newborn niece, fans reacted by screaming about Khloé in the replies.
Check out some of the best replies to Kim's not-about-Khloé tweet below:
Kim Kardashian's tweet links to a post on her official app, containing photos of herself, Kourtney Kardashian, and their kids North West, Saint West, Chicago West, Mason Disick, Reign Disick, and Penelope Disick.
Clearly, Kardashian superfans can get very riled up by any perceived social media slight, no matter how small it may seem. After all, the Kardashians are masters of Twitter shade, so you always have to be on the lookout for when they are using their social media accounts to side-eye someone... or even one another.
But let's get real about what most likely actually happened with the tweet in question. It's not secret that social media personalities schedule will schedule some of their posts ahead of time, especially when it comes to branded content or promotional material. Who could possibly forget when Scott Disick iconically posted an ad on his Instagram without deleting the instructions from the brand on when to post it and what to write from the caption? Anyway, Kim's tweet obviously was not an ad, but it's not hard to believe that the reality star will schedule tweets that promote her personal app ahead of time.
Besides, People Magazine reported yesterday that Kim Kardashian was heading to Cleveland to be at Khloé Kardashian's side while her sister gives birth to her first child. It's most likely that Kim is with Khloé and her newborn niece right now, and totally forgot about that scheduled tweets and oblivious to the numerous fans screaming about it in the replies. All of us Keeping Up With the Kardashian fans need to be focusing on the important issues of the day instead: What is Khloé Kardashian going to name her daughter? And more importantly, is the name going to start with a K!?