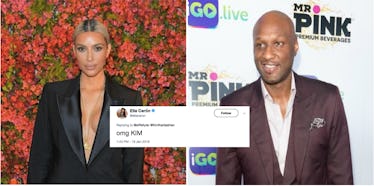 Kim Kardashian Threw Major Shade At Lamar Odom On Twitter & Fans Are Going Nuts
Charley Gallay/Greg Doherty/Getty Images
Lamar Odom tried to shade Khloé Kardashian, but the joke is on him because NO ONE COMES FOR KOKO. Odom recently did an interview where he spoke about Khloé's recent pregnancy news, and he had some... not so nice things to say about the reality star. Kim was not here for the bad publicity, and called him out using one perfect tweet. Kim Kardashian's tweet about Lamar Odom has fans rallying in support for the entire Kardashian family.
Odom completely opened up about Khloé, their relationship, and his thoughts about her pregnancy during an interview with BET's television show Mancave. Although Odom did say a few sweet things about Khloé, he definitely had some shade that he's been waiting to throw around.
Odom explained why he still had Khloé's initials tattooed on him, and used the opportunity to diss her love life. He said,
I still got my shawty's name still on me, her initials still on me. But, for no reason. You know what I'm saying? I understand when it's over, it's over. When she was with her second or third NBA ball player, I could see that.
First of all, how could anyone speak ill of Khloé? Not cool, Lamar. The "second or third NBA" basketball players that Odom is probably referring to are Khloe's exes, James Harden and Rick Fox. It was rumored that Harden and Khloé broke up before she met Tristan Thompson.
While I'm pissed, Kim Kardashian is definitely angrier. Khloé's older sister swooped in and tweeted "Or second or third brothel" in response to Lamar's comment. BURN.
Obviously, the situation Kim is referring to is when Odom was found unconscious due to an overdose at Dennis Hof's Love Ranch South in Pahrump, Nevada on Oct. 13, 2015.
Since that incident, Lamar has referred to himself as "a walking miracle." In May of 2017, Odom said that he was "living sober" after a stay at Diego's Casa Palmera rehab center. During an interview with Us Weekly, Odom admitted to hiding his addiction from Khloé up until two years before they split. He said,
I was hiding it for a while, but then I got frustrated and was like, fuck it. Around two years before we split up [in 2011], I was in the man cave she had made for me and she caught me. She was disappointed. So was I. The sad thing about it is, I don't know if I was disappointed because I was actually doing the drug or because she caught me. She knew I was doing cocaine the whole time after that. It was my drug of choice. I'm not going to say she accepted it because that would be the wrong word. Tolerated would be a better word.
In addition, Odom revealed that his biggest regret while being married was "having multiple affairs."
He said that once his relationship with Khloé became public, it made him look "more enticing" to women. He continued,
Yes. B*tches and THOTs came out of the woodwork. If there is one thing I regret when I was married, it was having multiple affairs with different women. That wasn't the stand-up thing to do. I wish I could have kept my d*ck in my pants.
Sooooo, maybe reliving all that information sheds a little light on Kim's epic clapback.
The most recent interview with Odom wasn't all negative. In fact, he was extremely supportive about Khloé's pregnancy and expressed that she will make a fantastic mother. Duh, we all already knew that. He said,
I'm happy for her. She took care of me. She'll be a good mother, for real. She's a great woman.
Khloé looks so happy and healthy, I'm sure she DGAF about the negative things anybody (including Odom) has to say. In case she does, Kim totally has her back. Keep doing you, Koko.
Check out the entire Gen Why series and other videos on Facebook and the Bustle app across Apple TV, Roku, and Amazon Fire TV.