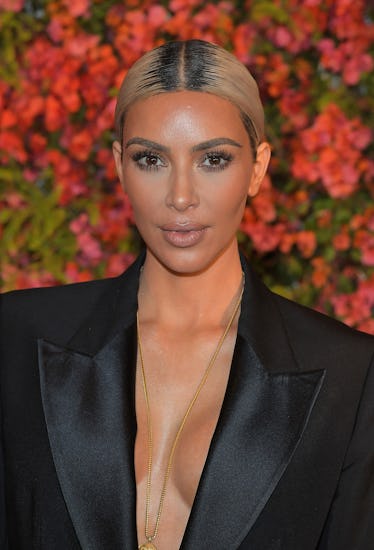 The Kardashians Had The Sweetest Reaction To The Birth Of Kim K's Third Baby
Charley Gallay/Getty Images Entertainment/Getty Images
The Kardashians are giving us all one wild ride lately. First, fans thought Kylie was going into labor, then we saw Khloé finally announce her pregnancy on Keeping Up With The Kardashians, and we were like, SLOW DOWN, fam! But slow down they did not, because we now know that Kim Kardashian and Kanye West's third baby has finally been born! On Tuesday, Jan. 16, Kim posted the announcement to social media, and the world obviously rejoiced. But the sweetness doesn't stop with just her fans, because the Kardashians' reactions to Kim Kardashian's third baby will give you an overload of happiness.
Kim posted all of the glorious details on Tuesday, revealing that her baby daughter was born Monday, Jan. 15, at 12:47 a.m., and that everyone is doing well:
January 15, 2018, 12:47 a.m. 7 lbs 6 oz. Kanye and I are happy to announce the arrival of our healthy, beautiful baby girl. We are incredibly grateful to our surrogate who made our dreams come true with the greatest gift one could give and to our wonderful doctors and nurses for their special care. North and Saint are especially thrilled to welcome their baby sister. Love, Kim Kardashian West.
Kim's representatives didn't have any comment beyond her statement.
Kardashian also took to Twitter to tell all her fans about the birth, in case they weren't stalking Kim Kardashian's personal website like I was (don't even think about judging me):
And Kim's family is clearly overjoyed at the arrival of baby number three. Proud grandma Kris Jenner retweeted Kim's tweet as any social media-savvy grandparent would do, and sister Khloé Kardashian also reacted to the news on Twitter.
I mean, just look at how many emojis sister Khloé used on Twitter in regards to the news:
That's sisterly love right there. And, now that Khloé finally revealed her pregnancy on KUWTK, we're getting pretty excited at the thought of Kim's little bundle of joy and Khloé's future baby playing and growing up together (and us fans who are able to watch it all from the comfort of our TV and phone screens).
Kim has been incredibly open about why she and Kanye West decided to have a child via surrogate — mainly because of a painful and life-threatening condition called placenta accreta — but before addressing their choice publicly, Kim decided to address the speculation and rumors back in September when she spoke to E! News. She said,
I've definitely seen a lot of things, we've never confirmed anything. So, I think when we're ready to talk about it we will, and I think it's super invasive when people are just... So many details out there, and like I've never heard this, I've never heard this. Like whatever. We have not confirmed it, and that's that. I'll let you know when we're ready.
But once she did confirm to the world that she and Kanye were having a child via surrogate, we were able to get some pretty exciting details from the already-mom of two. In an appearance on Ellen, Kim talks about her baby shower, and how she was trying to get her daughter North to understand that there's a baby on the way, despite the fact that Kim doesn't have a growing belly — but in doing so, Kim accidentally revealed the baby's gender. She said,
My daughter, she's really tricky. We had a baby shower over the weekend, and I thought: 'I really do want a baby shower because I want her to feel that something's coming, and I really want her to understand.' People brought toys and gifts [to the shower], and we were opening them all up the next day and North said, 'Mom, since baby sister's not here, I think I need all of her toys in my room and I'll play with them and just make sure they're OK for baby sister.'
Yes! A baby girl for Kim and Kanye!
And, now that she's finally here, we can totally get excited to finally meet the littlest lady of the Kardashian clan.
Welcome to the world, newest Kardashian-West member!