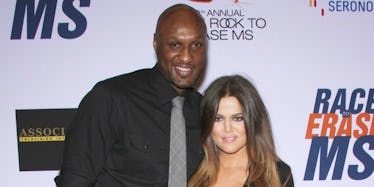 Lamar Odom Reveals Details About Cheating On Khloé K In Heartbreaking Interview
REX/Shutterstock
Seventeen months ago, Lamar Odom, a two-time NBA champion and Khloé Kardashian's ex-husband, survived 12 strokes and two heart attacks.
The 37-year-old reportedly considers himself "a walking miracle," and for good reason.
Khloé Kardashian filed for divorce from Lamar Odom in May of 2016.
Following a tailspin of drinking and drugs, Odom recently spent time at San Diego's Casa Palmera rehab center, and he now says he's "living sober."
In an exclusive interview with Us Weekly, the 37-year-old former Los Angeles Laker opened up about his split from Khloé Kardashian, that night he was found in a Las Vegas-area brothel, his time in rehab and much, much more.
Speaking on the first time his ex-wife caught him using drugs, Lamar Odom said,
I was hiding it for a while, but then I got frustrated and was like, fuck it. Around two years before we split up [in 2011], I was in the man cave she had made for me and she caught me. She was disappointed. So was I. The sad thing about it is, I don't know if I was disappointed because I was actually doing the drug or because she caught me. She knew I was doing cocaine the whole time after that. It was my drug of choice. I'm not going to say she accepted it because that would be the wrong word. Tolerated would be a better word.
Damn.
Lamar Odom also spoke with Us Weekly about how his very public relationship with Khloé Kardashian opened the door to many opportunities, including meeting other attractive women.
The 37-year-old said,
It also opened this gate up with other women who probably wouldn't have been interested in me. When I became Khloé Kardash­ian's man and on TV, it made me look more enticing. People who didn't even know basketball would approach me because they knew Lammy.
Lamar Odom admitted to having "multiple affairs" while married to Khloé.
He said,
Yes. Bitches and THOTs came out of the woodwork. If there is one thing I regret when I was married, it was having multiple affairs with different women. That wasn't the stand-up thing to do. I wish I could have kept my dick in my pants.
Holy hell!
Eventually, Odom opened up about the infamous night he was found in a brothel.
He said,
I was home by myself. Bored. I wanted to get out and have a good time. Looking back, I might have had a drink to get the mood started, but was I drunk or on drugs? Not at all. I remember lying in bed. Two women were in bed and then I fell asleep. That's all. When I woke up four days later, I was trying to pull the tubes out of my mouth.
Odom recounted the harrowing tale of waking up in a hospital bed following the brothel incident, and how he was shocked to find Kardashian by his side.
He recalled,
It was definitely a moment of relief. I didn't even know what had just happened. I mean, I'm a big strong dude who has made it to the highest level of doing what he loves. And now I can't walk or talk. She was the first thing I saw. She said, 'Hi, Mookah.' 'Mookah' is a name my mother used to call me. She said it to let me know I wasn't dead. She played a major role in me getting my memory back. She would bring pictures of my mother and my grandmother. I kept thinking, Am I paralyzed forever? Am I mute forever? It was scary shit. Faith got me through.
Speaking on how he came to the realization he needed to go back to rehab, Lamar Odom said,
My daughter gave me the ultimatum to go. She said, 'Pops, you get help or I won't talk to you.' I think she saw it in my behavior. Coke is a real psychological drug. You can be getting high and feeling great and then on the way down cursing yourself out. So I think it was one of those moments on the way down. This last time I checked into rehab, I was able to stay the whole 30 days and get the most out of it. I learned about addiction and that it's a brain disease. The choices we make when our brain is diseased are involuntary. So it was important and life-changing. My kids were really scared that their dad wasn't going to be here. It was good bonding time with them when they came to see me. They said, 'Dad, we want you to be here.' I was honest with them. There is no reason to lie now. But it was good for them to know it is a disease and one I may pass back to them.
I sincerely hope Lamar Odom is finally on the right path.
Citations: Lamar Odom Breaks His Silence: 'Everything Was My Fault' (Us Weekly)