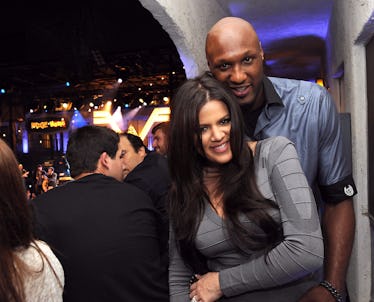 Lamar Odom Opened Up About Khloé Kardashian's Pregnancy, & It's A Lot
Michael Buckner/Getty Images Entertainment/Getty Images
Since the entire world basically exploded when Khloé Kardashian officially confirmed her pregnancy with Cleveland Cavaliers boyfriend Tristan Thompson, many have been waiting to hear what her ex-husband has to say about the arrangement. Well, Lamar Odom finally spoke out about Khloé Kardashian's pregnancy, and it's surprisingly very supportive. You know what they say, true love never dies.
Us Weekly secured an exclusive clip of the interview with Odom from BET's television show Mancave. During the interview, Odom addresses his ex-wife's current pregnancy, confidently stating that he's sure she'll be a good mother.
"I'm happy for her. She took care of me," Odom said. "She'll be a good mother, for real. She's a great woman."
Odom also addressed his process in coming to terms with accepting his marriage to Kardashian was officially over. Despite the couple calling it quits, Odom still keeps his ex-wife close, having her initials still tattooed on his body.
"I still got my shawty's name still on me, her initials still on me," Odom said. "But for no reason. You know what I'm saying? I understand when it's over, it's over. When she was with her second or third NBA ball player, I could see that."
The "second or third NBA ball player" Odom mentions refers to Kardashian's ex-boyfriends James Harden and Rick Fox. Kardashian met Thompson in 2016 after splitting with Harden, and rumors started flying whether the duo were officially dating.
While there was some definite shade in Odom's NBA player comment, it's nice to see that the pair can still remain friends and wish each other well after all they've been through. Props to them for keeping it mature.
Kardashian and Odom were married from 2009 to 2016.
They married only a month after meeting and went on to have their own Kardashian's spin-off, Khloé & Lamar, which aired for two seasons. Odom was a regularly occurring face within the Keeping up with the Kardashians franchise, where the two also shared their struggles with trying to have a baby of their own.
In 2013, their marriage started to take a turn for the worse. Odom was arrested for a DUI and speculations concerning his battle with substance abuse begin to circulate, leading Kardashian to file for divorce on December 2013. However, the divorce wasn't officially finalized until December 2016, due to both Odom's refusal to sign the papers as well as fighting for his life after an overdose resulting in a near-death stroke. Kardashian visited him frequently in the hospital throughout his recovery.
Kardashian and Thompson apparently got together shortly before the divorce was finalized, in September 2016. And a little over a year later, Kardashian confirmed that she and Thompson are expecting via an Instagram post on Dec. 20, 2017. She proudly displayed her baby bump alongside a heartwarming caption relaying her excitement at having a baby.
She wrote,
My greatest dream realized! We are having a baby! I had been waiting and wondering but God had a plan all along. He knew what He was doing. I simply had to trust in Him and be patient. I still at times can't believe that our love created life! Tristan, thank you for loving me the way that you do! Thank you for treating me like a Queen! ... I am so thankful, excited, nervous, eager, overjoyed and scared all in one! But it's the best bundle of feelings I've ever felt in my life!
Despite the drama, it looks like there's still goodwill and caring between Kardashian and Odom — which is a great thing to hear as the reality television star, business woman, and fitness queen gets ready to add "mommy" to her already impressive resume. Congrats Khloé!