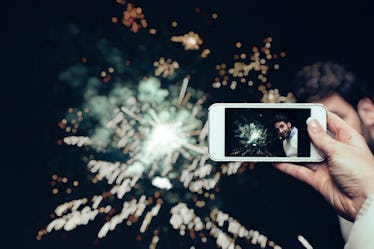 How To Get The Best Photo Of Fireworks So Your NYE Is Extra Memorable
There's no better time to embrace new beginnings than the stroke of midnight on Jan. 1. You'll want to kickstart 2018 with positive vibes (and lots of likes on Instagram), so it's essential to figure out how to take photos of fireworks this New Year's Eve. Prepare to be the talk of your friends' newsfeeds.
First thing's first: Settle on a device. Chances are you're not going to want to hit your party with your DSLR in tow, so you'll most likely have to capture the countdown to 2018 with your cell. There's no problem there — especially if you were treated to a fancy new iPhone this Christmas. Take a couple of minutes before the big moment to get your smartphone situated.
Before things kick off with a bang (literally) you're going to want to get rid of the flash on your iPhone or Samsung. Yes it's midnight and pitch black outside (with the exception of the Christmas lights) but leaving this feature on will make for poor-quality shots. While you're at it, turn off the HDR as well. The fireworks' multiple exposures has the power to mess with the colors, so professional photographers recommend doing with out it.
Next, find a subject. Photographer Tony Northrup tells TIME readers to photograph their children or loved ones. By capturing the back and side of their faces, you're not only adding to the photograph's story, but you're adding dimension to it as well. Northrup also suggests timing the shots before the fireworks explode, which will create a five to 10 second exposure.
If you're really committed to capturing the magic of New Year's Eve, there are plenty of tips for photographing fireworks with your DSLR. Nikon provides quick suggestions to help you channel your inner Annie Leibovitz. Since you're going all out, you might as well start with the right gear like a tripod to help steady your photos. Drop your ISO to 200, start your aperture at f/11, turn off the autofocus, and turn on long exposure noise reduction. Nikon photographer Lindsay Silverman provides step-by-step instructions if you really need to plan this out. In the name of quality photography, there is no such thing as doing too much for Instagram likes.
Even better? If your shots don't turn out exactly how you had hoped, you can always edit them. They're your creations — feel free to manipulate (but don't do the same with someone else's work, of course). Look into apps such as VSCO and Snapseed if you're thinking about doing a little retouching. If you're planning on going all out, utilize Adobe Photoshop and Lightroom. There is no judgment for the seriousness level you're embracing.
While you're out and about on this special evening, don't forget to enjoy the experience and not just photograph it. Before things get cooking, have a look at a champagne jello shot recipe to wow your guests. Pick out a fun movie to watch with your squad if you're thinking about a cozy night in. Of course, don't forget to include man's best friend in your activities (and those Instagram pictures).
And when you need them, we have conveniently provided you with all the captions you need to accompany those terrific snaps. Whether you're feeling optimistic, a little silly, or lovey dovey, there are plenty of expressions that'll perfectly capture the essence of your mood.
Here's to a happy, healthy, and positive 2018. Let's get the ball rolling with those amazing Instagram pictures.
Check out the entire Gen Why series and other videos on Facebook and the Bustle app across Apple TV, Roku, and Amazon Fire TV.