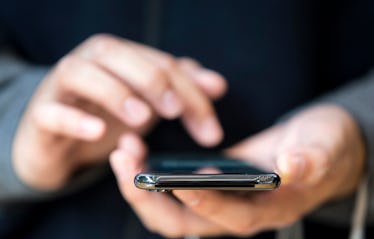 These iPhone X Photo Tips Will Bring Your Instagram To A Whole New Level
Tomohiro Ohsumi/Getty Images News/Getty Images
There's a reason they say "Instagram or it didn't happen." Social media isn't taken lightly this day and age, which is why you need a camera that's going to capture the perfect #OOTD and #dogstagram shot at a moment's notice. Prepare to rake in the likes: These iPhone X photo tips will catapult your feed into social media superstardom.
The iPhone X is leading the way for a new era of smartphones, so it's only fitting that the camera is up-to-speed with everyone's needs. Thanks to the phone's new system — complete with TrueDepth camera and Dual 12MP rear cameras — pictures are more defined and have the ability to take on DSLR-like quality. That obviously means your selfies are going to be way artsier than your friends' (sorry not sorry, right?).
If you're ready to unleash your inner Annie Leibovitz sans camera, you're going to need to learn how to get your iPhone X to shoot beautiful footage. First thing's first: Since millennials are no stranger to the selfie phenomenon, let's explore how to enhance your portrait photos. Get ready to strike a pose.
If you're in need of a selfie while on vacation or out at a fun event, explore the phone's five portrait lighting tips: Natural Light, Studio Light, Contour Light, Stage Light, and Stage Light Mono. There's plenty to choose from and all provide a different aesthetic so you can really spice things up. Here's what each mode means:
Natural Light: The subject (you) will be in focus while the background is blurred.
Studio Light: You will be a brightly lit subject thanks to Studio Light. Photos with this mode can act as head shots for your Hollywood auditions.
Contour Light: This feature allows dramatic shadows, highlights, and lowlights to surface.
Stage Light: The subject (again, you) will be bright, but the background will be black (like a photo of your favorite Broadway star)
Stage Light Mono: This provides the same look as the Stage Light setting, but offers an old-school feel in black and white.
Keep in mind, when you're rocking those selfies in portrait mode, the further your are from the background, the more pronounced the blur effect will be... so use that accordingly to create the perfect vibe. If you're going for a Broadway look with Stage Light or Stage Light Mono, try shooting slightly below your subject's face level. That'll really make it seem as though you're getting ready for your big debut at the New Amsterdam Theatre in Times Square.
You also have the option to spice up your camera roll by adding live photo effects — guaranteed to make your footage pop. To create some zany looks, try one of these three features:
Loop: This is when the action is repeated on loop in a video.
Bounce: This plays the action forward and backward.
Long Exposure: This stacks Live Photo video frames to blur the action.
There are plenty of effects to make your pictures stand out, but Apple also provides reminders for those who are really looking to make a splash in newsfeeds. Burst Mode allows you to capture 10 pictures per second if you're looking to capture something wild and fast, while the ability to lock the exposure and focus allows for clear photos with lots of movement. Want to make sure you're in line with the Rule of Thirds? Head to Settings > Photos & Camera, and turn on Grid.
There's plenty to explore with the new iPhone X and we can't wait to see what your Instagram features next.
Check out the entire Gen Why series and other videos on Facebook and the Bustle app across Apple TV, Roku, and Amazon Fire TV.