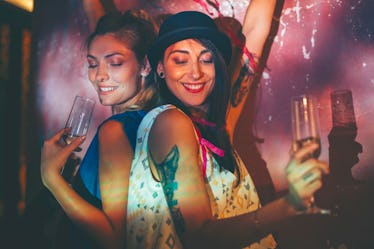 41 Champagne Puns For Your New Year's Eve Pics, Because Fizz The Season
New Year's Eve is fast approaching, and that means parties, friends, and most importantly, champagne. Yes, the lovely bubbly is a way to every woman's heart on New Year's, and it's one hell of a party starter. If you're 21 and up, you know that champagne has the ability to give you a great time spent with even better friends. And when you're looking for that perfect caption to post a cute AF pic the next day of you and your girlfriends, champagne puns for Instagram are naturally the right way to go.
You can party hardy responsibly, and that's also the right way to go this year. A little party never hurt nobody, but it can sting a little the next day if you pop more bottles than intended. Champagne is certainly a fan favorite to celebrate ringing in an exciting new year, and it for sure will give you and your ladies a fabulous end to 2017. Another year will be behind us, and whether you left some bad things behind or had a great year, it's time to ring in the new — and some bubbly goodness will make it all the better.
Here are some fabulous champagne and prosecco puns to get you through your unloading of New Year's Eve pictures. Have fun, and happy holidays to everyone!
1. "Feelin' bubbly." — Unknown
2. "No champagne, no gain." — Unknown
3. "Champagne's involved? I'll be there in a prosecco." — Unknown
4. "She's bright like glitter and bubbly like champagne." — Unknown
5. "Sip sip hooray!" — Unknown
6. "Running out of champagne is my cardio." — Unknown
7. "I make pour decisions." — Unknown
8. "Make it pop like this champagne in my glass." — Unknown
9. "Champagne is good for your pours." — Unknown
10. "Fizz the season." — Unknown
11. "That's what I do. I drink champagne and I know things." — A little nod to Tyrion Lannister
12. "Holiday cheers." — Unknown
13. "If you can't be with the one you love, love the wine you're with." — Unknown
14. "Let's get fizzical." — Unknown
15. "At my age, I need more glasses." — Unknown
16. "Hit me baby one more wine." — A little Britney for ya
17. "If you can drink away your hurts, it must have been champagne." — Unknown
18. "New Year's always gives me such a champagne in the head." — Unknown
19. "Sometimes you just gotta pop off." — Unknown
20. "On your marks, get set... PROSECCO!" — Unknown
21. "Last night was proseccond to none." — Unknown
22. "One prosecco, two prosecco, three prosecco, floor!" — Unknown
23. "Pour quality pic, high quality friends." — Unknown
24. "Prosecc — OH HELL YEAH!" — Unknown
25. "Champagne Mami." — Thank Drake for this one
26. "Sunday is for poppin' bottles." — Unknown
27. "I like my wine sparkling, like my personality." — Unknown
28. "Sunday morning: Mimosas (hold the orange juice). Sunday night: Champagne (hold the stopper)." — Unknown
29. "In my 20s and I'm blowin' bubbles - who knew?" — Unknown
30. "But first, champagne." — Unknown
31. "Pop, fizz, clink." — Unknown
32. "I'll drink to that." — Unknown
33. "You were my cup of tea, but I drink champagne now." — Unknown
34. "Save water, drink champagne!" — Unknown
35. "Champagne living and poppin' that bubbly." — Unknown
36. "No pain like champagne." — Unknown
37. "Raised on champagne." — Unknown
38. "Eat well, champagne often." — Unknown
39. "Champagne in the membrane." — Unknown
40. "Brunch so hard mimosas want to find me." — Unknown
41. "I don't know what all the fizz is about; it's just New Year's." — Unknown