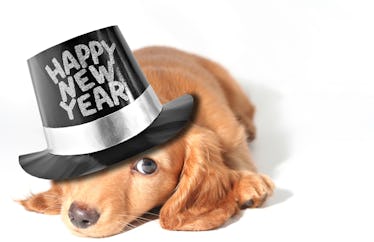 12 Dogs In New Year's Eve Hats Who Are Literally Our Spirit Animals
New Year's Eve is the last night of the year to really look your best. You want to wow your friends when you walk into the party. When picking out your outfit, you can't have enough sparkles and accessories. The same goes for your dog. They also need to get in on the glitz and glam of the holiday by dressing up, which is why you can find many dogs in New Year's Eve hats. Especially when you've had a ruff year, you want to end it on a high note by standing out in a crowd. A New Year's Eve hat immediately adds class to any pooch wearing one.
These 12 dogs in New Year's Eve hats are to die for, and I mean it. I literally can't even when seeing these pups so pleased with themselves in their New Year's best. I guess we should all quit trying to have the best outfit, because we know who already won. That's true fashion right there. We're pawsitive that you'll have an amazing New Year's Eve after seeing these pooches in their sparkly hats. 2018 is fur real going to be the best year yet, so move over 2017, because the dogs are out and we're ready to party!