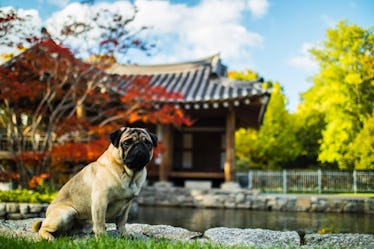 10 Dogs Dressed Up For Thanksgiving Who Are Ready AF For You To Pass The Pumpkin Pie
Since many of us are stuck at college for most of the year, our time with dogs is, unfortunately, severely limited. I don't know about you, but this is definitely something I want to change. However, until I can get a pup of my own, I thrive off of any animal walking down the street, and I proudly follow hundreds of dog accounts on Twitter and Instagram. With the holiday season upon us, the cuteness game has been taken to a whole other level with dogs dressed up for Thanksgiving and other occasions. And let me tell you, I am living.
With their incredibly adorable faces and silky, smooth coats, doggos are angels on earth that humans just do not deserve, plain and simple. Add in some turkey costumes and ruffled feathers on a confused pup's back? A sweet autumnal bandana? I am sold. That's all it takes for love to strike, apparently.
I have a cat at home who can't sit still for these things (as I assume most cats won't) and also, she's not as cute as a dog — although, my sister will tell you differently. But, let me take a crucial minute to show you exhibit A. (I'll wait.):
Aren't you just melting? And I don't know about you, but being told to give thanks from a nice fluffy face like this is just so convincing. But whatever you prefer, cats or dogs, these 10 puppers are sure to brighten your day and make your Thanksgiving break all the more better.