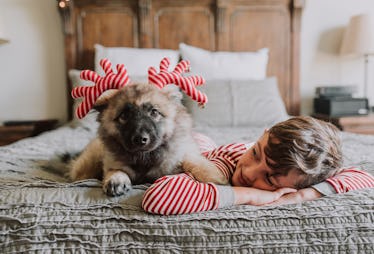 8 Dogs Dressed Up For Christmas Who Are Incredibly Dapper & Also Up To No Good
Confession: I am an actual Christmas nut. I love absolutely everything about the holiday, from seeking out the perfect Christmas tree and decorating it in bling from head to toe, to baking gingerbread cookies and drinking eggnog by the fireplace in my cozy AF long Jane pajamas. Once the day after Thanksgiving hits (heck, even way before that), this chick over here turns into Buddy the Elf. Christmas is, and will forever be, my main jam. If you're in the same boat as me (or sleigh, if you will), you'll certainly agree that along with all of my previous sentiments, one of the happiest moments during this jolly season is seeing dogs dressed up for Christmas.
If you're a dog owner yourself, you've most likely already ordered a selection of Christmas sweaters and festive bows for your furry main squeeze. Let's be real here, they'll be looking way more fly than the rest of us, anyway. There's just something about your pooch around the holidays that brings on an adorable yet mischievous vibe. One minute, they're Santa's little helpers looking all cute and stuff, and the next, they're sneaking peaks at their Christmas presents before they've even been wrapped. But, who could get mad at those sweet faces? In honor of the holiday, here are eight pups who look extremely dapper, but also like they're up to no good (per usual).