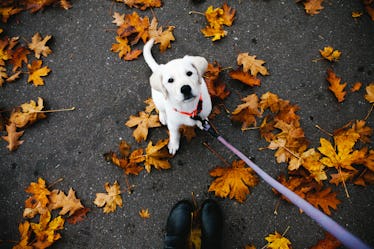 14 Photos Of Dogs In Fall That Prove They're Living Life Better Than Us & We're Jealous
Any dog lover will tell you that fur babies hold a special place in our hearts. They have important priorities in life, which, to name a few, include being naturally adorable at all times, eating, playing, sleeping, and cuddling. As much as us humans tend to get caught up in our hectic schedules, commitments, and get stressed when things go wrong at times, dogs just wag their tales and take life for what it is. These photos of dogs in fall actually prove they're living life way better than the rest of us, and we should take some notes ASAP.
When fall comes around, even though many of us look forward to the start of each new season, we sometimes forget to really enjoy it. Many of us are too busy working to take time to watch the falling leaves, or to appreciate the very first fall-like day. We may even take the little things for granted, like how the air starts to smell incredible when the temperature cools down. But, bless their hearts, our dogs take it all in.
Our dogs are out there, living it up and loving every autumnal moment as much as they can. These 14 pictures prove we've got a lot to learn from them. I totally won't judge if you start wondering what it'd be like to switch places with your pup for a day.