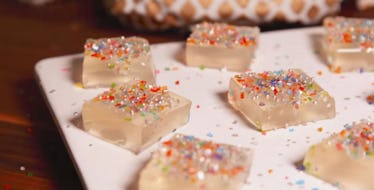 10 Champagne Jello Shot Recipes For A Poppin' New Year's Eve
New Year's Eve is all about toasting to the year we've had, and popping some champagne for the exciting year to come. If you're planning on celebrating at home with your friends, make sure you have all of the necessities for a totally lit party. That means it's key to have the champagne flowing if you're 21 and up. You can never have enough bubbly for the perfect New Year's Eve party, and there are definitely a lot of sweet treats you can make with champagne. For the most epic celebration, champagne Jello shot recipes are in order.
Spice up your Jello shots with the best bubbly around. This year is going out in style, so you need to stock up on the champagne for these 10 Jello shot recipes. They are super easy to make, so you don't even have to worry about working hard in the kitchen on the last day of the year.
There are also different ways to serve and decorate to make your shots as extra as they can possibly be. As the ball drops, your guests will be chanting, "Shots, shots, shots." I'll definitely be there in a Prosecco if you're serving champagne Jello shots, so here's a toast to one epic party, and a truly happy New Year!