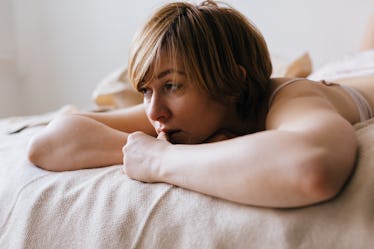 Here's How You Can Fall Asleep When You're Super Nervous About The Day Ahead
The next time you roll into the office with dark under-eye bags giving away your sleep deprivation, consider the list of scapegoats you come up with. Sure, the blue light emitting from Instagram while you mindlessly scrolled could have screwed up your circadian rhythm, and if your roommate snores like a grizzly bear, that could definitely skew your sleep. But what about your nerves? Shutting off your phone, investing in soundproof earphones — these are all things you can do to tune out interruptions, but figuring out how to fall asleep when you're nervous about things that are happening outside the comfort of your sheets requires you to think outside the box you call your bedroom.
According to Eric Nofzinger, M.D., founder and chief medical officer at Ebb Therapeutics, the reason why you struggle so hard trying to fall asleep in a pile of nerves is because, in order to achieve that deliciously satisfying, optimal sleep nirvana, "the body and mind have to settle down." If your brain is hyperactive and going through the what-ifs of tomorrow, or an event you're dreading a week from now, your body and mind are far from settled. In order to close your eyes and drift off to sleep, nerves or not, you need to carve out at least an hour or so before bed to focus on winding down.
"[When winding down], our body temperature is declining, and a series of hormonal and neuroendocrine activities are switching gears from a waking, active state, to one more characteristic of rest and restoration," Nofzinger tells Elite Daily. "A feeling of 'nervousness' calls into play the opposite bodily and mental activities that are more associated with states of high arousal that oppose sleep."
In short, you can't fall asleep when you're a jumble of nerves, because nothing about you — body, mind, or soul — is at rest. Here are a few, expert-approved tips to help switch your body temperature from high to low, turn down all the unnecessary noise in your brain, and just relax for a few hours.