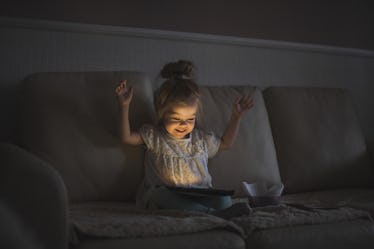 5 Things That Can Happen To Your Body If You Spend All Day Staring At A Computer Screen
Looking at screens is essentially unavoidable. No matter what job you have or how many digits are in your salary, smart phones and laptops have become so ubiquitous that you're actually in the minority if you're not spending several hours a day staring at one, the other, or both. In some ways, this is amazing. We have unlimited access to knowledge at our fingertips, and we can communicate regularly with people all over the world. But at the same time, there are definitely some drawbacks, which inevitably require you to ask, is staring at a computer screen bad for you?
Your eyes aren't evolutionarily equipped to stare at the specific type of blue light that screens emit. Because of that, you can actually incur temporary eye damage just by staring at a screen for too long. Since millennials are basically the first generation to grow up with screens, though, the level of permanent damage we might be incurring isn't entirely known yet.
For now, all you can really do is stay cognizant of how much time you spend staring at a screen, and try to break that time up with activities in between. Here are five things that can happen to your body as a result of staring at a computer screen for too long, along with some suggestions for how to counteract some of the more negative side effects.