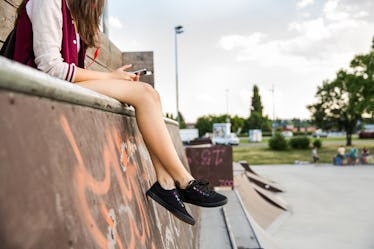 These Easy Breathing Techniques Will Help You Conquer Your Nerves & Find Your Center
You've probably experienced that nervous "butterflies in your stomach" feeling before, right? It's that feeling you get before a big presentation or an important work meeting, when you low-key feel like you're about to vom. TBH, I used to just cross my (aggressively sweaty) fingers and hope for the best whenever I felt this way, but I soon realized that wasn't a good tactic whatsoever. Thankfully, I figured out a few breathing techniques for when you're nervous that actually work to keep your head on straight and help you stay calm in even the most nerve-wracking situations.
There are countless recommendations and suggestions out there on how to calm your nerves, but honestly, one of the most simple and effective methods lies in taking a few deep breaths. The power of your very own breath is so strong that ancient yogis created intricate breathing techniques — aka "pranayama" — to significantly reduce stress and unease in your everyday life.
However, as incredibly effective as these techniques are, many of them require patience and practice to master. Not to worry, though — there are plenty of breathing techniques that are designed to calm you down in an instant that you can literally do right in the bathroom before a meeting, or even while you're sitting down amongst others before a presentation (seriously, no one will even notice).
Try these five breathing techniques to center yourself and quiet that mental chatter when you're nervous AF. In and out, girl, in and out.