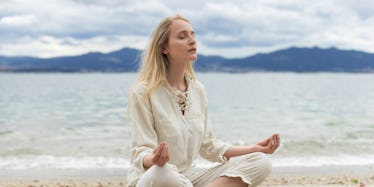 The Breathing Technique You Should Try In 2018 For Less Stress & More Zen
When stress gets to the point of being truly overwhelming, it's easy to forget that the most natural and convenient way to relieve that anxiety lies in the power of your very own breath. Deep, expansive inhales and long, drawn-out exhales can make a world of difference when incorporated regularly into your everyday routine, and TBH, there's no better resolution than that if you're looking to improve your overall well-being. When it comes down to it, the breathing technique you should try in 2018 is pretty straightforward, but astrology is here to tell you exactly how to de-stress through mindful breaths, based on your own unique personality and characteristics.
Pranayama is an ancient disciplinary practice commonly used in yoga, and it simply refers to the practice of controlling your own breath. "Prana" means "life force," and "ayama" translates as "to extend or draw out," so collectively, the word is defined as mastering one's breath extension.
There are a variety of different pranayama breathing exercises, so if you're just starting out it might be confusing to narrow down which one to choose. However, looking to your zodiac sign is a great way to guide you toward the optimal breathing technique for you, so that you have a good starting point upon which to build your pranayama practice.
If you want to find your zen in the simplest and most minimalistic way possible this year, look no further than the art of pranayama and the beauty of your own breath. Here's the breathing technique you should try in 2018 for less stress and more relaxation, according to your zodiac sign.