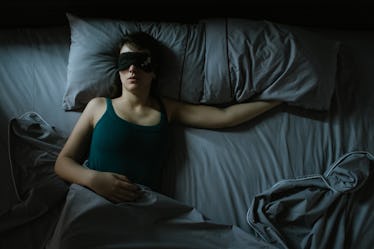 6 Expert Tips For Falling Asleep Earlier If You're Usually A Relentless Night Owl
There are two types of people in this world: early risers and night-walkers, and the two are very rarely one and the same. If you're accustomed to night life, it can be really hard to fall asleep at a "normal" time, so you probably avoid early morning activity if you can help it. But the real world typically demands you start the day when the sun comes up, which means you're stuck trying to figure out how to fall asleep earlier than your body's used to. Speaking from experience, I can genuinely sympathize with your struggle; but I can also guarantee you'll get there. It just takes some practice and getting used to.
For starters, try not to think of going to sleep earlier as a punishment. Consider it a trade-off instead: The earlier you crawl into bed at night, the earlier you'll rise in the morning. You're not losing out on time here, friends. You'll just be experiencing life from an early bird's perspective which, I promise you, isn't all that bad.
Granted, I get it. The time you go to sleep isn't just a matter of schedule structuring. Night-walkers and early risers have completely separate cultures, and they like it that way. Change is daunting, but it's doable, and by incorporating any of the following expert tips into your nightly routine, I promise the idea of nodding off by 9 p.m. won't seem so impossible.