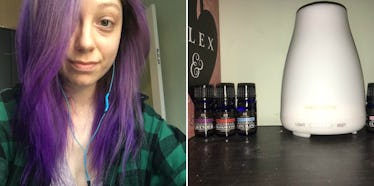 I Tried 5 Different Essential Oils To Help Me Sleep & This One Was The Clear Winner
Allie Strickler
I'm not good at falling asleep. Don't get me wrong; I love to sleep, but most nights, it feels more like an accidental miracle than anything else that I actually managed to doze off. I've tried my fair share of sleep hacks before — I've made my bedroom colder, kept my phone outside the room, I've tried meditating, I read before bed most nights — so I really, really wasn't convinced that trying essential oils to fall asleep would work at all for someone like myself. And yet, here we are.
Of course, I'd heard about all the benefits of essential oils and aromatherapy prior to diving into this experiment. Some of my closest friends swear by the stuff, and one of my favorite celebs Jenna Dewan Tatum has been into essential oils for basically half her life. I mean, the girl always looks so happy, so fresh-faced, and come on, she landed Channing Tatum as a husband, so like, she's clearly doing something right. If nothing else, I was definitely willing to give this whole thing a try to make my bedroom smell lovely, and not like my boyfriend's old socks and dirty tissues.
Despite my skepticism, I got myself a diffuser, a few basic essential oils, and I set out to discover which, if any, might finally help me fall asleep.
URPOWER Essential Oil Diffuser, $18, Amazon