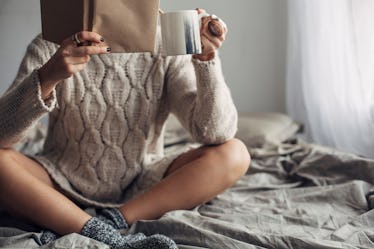 I Tried Moon Milk To Fall Asleep When I Was Sick & I Was Out Like A Light
You don't have to dare me to try anything once when it comes to wellness trends, especially viral recipes and holistic remedies. When people on social media were adding spirulina powder by the scoop to their smoothies, I, too gave the gorgeous blue-green algae a try (and, TBH, I wouldn't recommend it). I've sipped bone broth for my immune system, and I've snacked on no-bake protein balls for a healthy energy boost. Most recently, though, it was the pretty moon milk recipe ideas floating through my Instagram feed that piqued my interest, and once I came down with an atrocious cold that left me tossing and turning all night, I figured now was as good a time as any to put the alleged sleep tonic to the test.
If, somehow, your social feed isn't loaded with gorgeous snapshots of this milky potion, allow me to enlighten you on this super healthy, super delicious bedtime sip. It's basically the upgraded version of the glass of warm milk your mom or grandmother might have served you as a child when you couldn't sleep at night. Moon milk is an aesthetically pleasing spin on the Ayurveda custom that highlights different adaptogens as its key ingredient.
According to Be Well, adaptogens are herbal ingredients used to "improve the health of your adrenal system." Different adaptogens cater to a variety of individual needs, from reducing stress to increasing energy levels. They were a hot commodity in the health and wellness community in 2017, and I'd been itching to give them a try all year.
Even though I was definitely hesitant to try any so-called super-charged powders after my epic spirulina fail, once the opportunity presented itself to find out whether or not moon milk was actually a liquid lullaby, the health guru in me couldn't resist.
I found a golden moon milk recipe that was as simple as it was gorgeous.
Looking up "moon milk recipe" on any given search engine will generate millions of mugs to choose from. As this was my first time giving the warm beverage a go, I was looking for something easy, but also something that provided that picturesque aesthetic we millennials love (because if it couldn't make me dozy, at least it would be pretty to look at, right?).
I came across Alaina Sullivan's Moon Milk recipe for Bon Appétit and quickly skimmed through the ingredients list. I was thrilled to see that nearly everything I needed to whip up the bev was already in my pantry — everything, of course, except ashwagandha powder.
Because stress can cause bouts of insomnia, it's super important to keep anxiety levels low prior to hopping into bed, otherwise you might be tossing and turning all night. This is where ashwagandha comes into play. According to The Chopra Center, ashwagandha is an adaptogen best known for helping people "strengthen their immune system" and reduce symptoms of stress. In other words, adding ashwagandha powder to teas, matcha lattes, smoothies, and other recipes can boost your immune system, as well as help your mental and physical body deal with anxiety.
I hopped onto Amazon to browse a few adaptogen brands and, to be honest, these powder supplements are a little pricy. Seeing as how this was my first time giving ashwagandha a try, I definitely wasn't ready to commit to a $25 bottle. Instead, I opted to try Feel Good's sample packet, which comes out to about eight bucks for about four ounces.
The recipe only calls for a quarter teaspoon of ashwagandha, but don't let the tiny measurement fool you. A little goes a long way, especially when combined with all the other spices Sullivan's recipe calls for, like antioxidant-rich ground cinnamon, turmeric for hormonal balance, and cardamom for healthy digestion.
The first sip alone convinced me that moon milk was well worth the hype.
Once I had all the ingredients laid out in front of me, the recipe only took about 10 minutes to put together. All you have to do is combine the spices into a simmering pot of whole or unsweetened nut milk (I used Blue Diamond Almond Breeze Unsweetened Almond Milk) and vigorously whisk the mixture for anywhere from five to 10 minutes until the liquid is warmed through. Sullivan notes that the longer you stir, the stronger the medicinal effects.
I poured my beautiful, golden milk into a mug, and relaxed at my dining room table while I took my sweet time sipping away (after snapping a few pics, of course).
Now, I'm typically skeptical going into experiments like these, just because I've had more errors than successes testing different health trends, but I can honestly say Sullivan's moon milk recipe had me feeling drowsy within minutes of the first sip — so much so that I actually stumbled over my words in a conversation with my husband, a tell-tale sign that this girl was ready for bed.
I would definitely recommend moon milk to anyone having trouble falling or staying asleep.
While I (sadly) cannot report that the moon milk miraculously cured my sniffles, I can confirm that I slept through the night without having to wake up every hour on the hour to blow my nose, so that was a huge plus.
This is definitely one social media health trend that I think anyone on the lookout for a home sleep remedy can benefit from. The beverage itself tastes amazing, it's super Instagram-worthy, and just a few sips will have you feeling sleepy in no time.
Pinkies up, and sweet dreams!