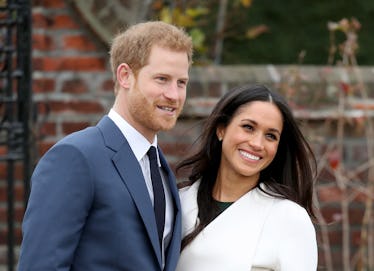 This Is Exactly How Long Prince Harry & Meghan Markle Were Engaged
Chris Jackson/Getty Images Entertainment/Getty Images
Prince Harry and Meghan Markle's wedding is a mere TWO DAYS away, and I can barely contain my excitement. It seems like only yesterday we were watching these lovebirds cozy up to one another at the Invictus Games, and in a few short days, they'll be reciting their vows at St. George's Chapel in Windsor. Given the whirlwind nature of their romance, you might be asking yourself, "How long were Prince Harry and Meghan Markle engaged?" And the answer might surprise you.
Though the couple announced their engagement late last November — on Nov. 27, 2017, to be exact — they explained that they'd been engaged for a couple of weeks before the announcement was made. Assuming Harry popped the question at Nottingham Cottage around the first week of November (over roasted chicken, because what else), and their wedding will take place this Saturday, May 19, 2018, their engagement will have been about seven and a half months in all. Though, if you've been giddy as I've been over these royal nuptials, it's probably felt like a million years and 30 seconds all at once.
Generally speaking, seven to eight months is considered to be a very short engagement in the United Kingdom. A survey conducted last year by wedding planning site Bridebook.co.uk found that the average engagement lasts about 20 months in the U.K. — nearly three times the length of Prince Harry and Meghan Markle's. However, royal engagements are generally placed on a much tighter timeline. In fact, Prince William (Harry's big bro, of course) and Kate Middleton were engaged for just six months before they tied the knot on Apr. 29, 2011.
That said, William and Kate had known one another for nearly a decade by the time their wedding rolled around (the pair met while studying at St. Andrews University), while Meghan and Harry met less than two years ago, in July 2016. But it appears that the Prince of Wales and the former actress fell in love at first sight. When the pair made their first smiling photo call post-engagement, Harry said, "When did I know she was the one? Very first time we met." And later, during their first interview as a betrothed couple, he explained that the first time he saw Markle, he was "beautifully surprised."
At the risk of sounding sappy and clichéd, I'm pretty sure you could say this was one of those ~when you know, you know~ situations.
While many details of the wedding still remain under wraps (who's designing her dress? Are the Spice Girls performing? Will William and Kate's newest babe be there? How many of Markle's former Suits costars are going to make an appearance? I have so many burning questions!!!), here's what we do know about Meghan and Harry's impending big day.
The wedding's set to take place at 12 p.m UK time, or 7 a.m. EST (so set your alarms, patriots!).
They're bucking the royal tradition of having a wedding fruit cake in favor of a lemon elderflower cake, created by pastry chef Claire Ptak, owner of the London-based bakery Violet Cakes. It sounds absolutely scrumptious.
Markle will likely opt to have her mother walk her down the aisle, as reported by E! (which I love).
And while Prince William is rumored to be Harry's Best Man (and Charlotte and George will strut down the aisle as the page boy and girl), Kate Middleton will likely play a minimal role in the ceremony. Considering the Duchess just gave birth, like, yesterday, I'd say that's fair on all accounts.
We'll have to wait until Saturday to see how the rest of it plays out, but I know I can't wait to don a fascinator, cry off my mascara, and toast to the happy couple on the streets of Windsor. Seven months was long enough.