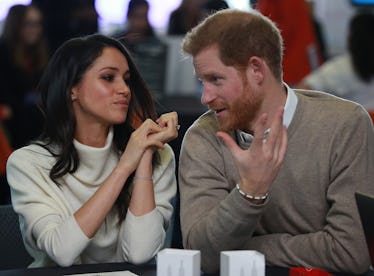 Meghan Markle & Prince Harry Broke Royal Wedding Tradition In The Most Delicious Way
WPA Pool/Getty Images Entertainment/Getty Images
Prince Harry and Meghan Markle's wedding is just two months away, can you believe it?! It feels like they just got engaged last month, but the engagement was already four months ago and Markle is getting closer and closer to becoming British royalty. On Tuesday, March 20, Kensington Palace shared a casual but exciting detail about the royal wedding, and it's all about cake! (Finally, something I can truly relate to.) In a series of tweets, Kensington Palace revealed Meghan Markle and Prince Harry won't have a wedding fruit cake like royal tradition states. Instead, they'll be having a lemon elderflower cake created by a pastry chef Markle interviewed in the past for her old blog, The Tig.
The tweets from Kensington Palace revealed the couple's plans for their wedding cake and it's making me so hungry. "For their wedding cake," one tweet said, "Prince Harry and Ms. Meghan Markle have chosen pastry chef Claire Ptak, owner of the London-based bakery @violetcakes." The following tweet said, "Prince Harry and Ms. Markle have asked Claire to create a lemon elderflower cake that will incorporate the bright flavors of spring. It will be covered with buttercream and decorated with fresh flowers." That sounds like the perfect cake for a spring wedding to me! (I'm still so hungry, guys.)
The tweets gave more insight into Claire Ptak's background, saying, "Claire Ptak, who was raised in California, focuses on using seasonal and organic ingredients in her cakes. Ms. Markle previously interviewed Chef Ptak for her former lifestyle website The Tig."
Ptak expressed her excitement for her new gig in a statement that read, "I can't tell you how delighted I am to be chosen to make Prince Harry and Ms. Markle's wedding cake. Knowing that they really share the same values as I do about food provenance, sustainability, seasonality and most importantly flavor makes this the most exciting event to be a part of."
The Violet Cakes Instagram account posted a shot of Ptak in order to celebrate her being chosen to make the royal wedding cake. The caption, which was similar to Ptak's statement, read, "Kinda excited to announce this one!! Violet has been chosen to make the wedding cake for Prince Harry and Meghan Markle. @kensingtonroyal They both share so many of the same values regarding food provenance, sustainability, seasonality and of course, flavour!" Scrolling through the Violet Cakes Instagram account, it's easy to see why Meghan Markle and Prince Harry chose this bakery.
Look how cute the bakery is!
And don't even talk to me about this cake.
Or this one.
Or this chocol... you know what? I'm going to grab some food real quick before I get even more drool on my laptop.
Notice how the above cakes all feature fresh flowers! We can expect to see Prince Harry and Meghan Markle's wedding cake look similar to those beauties.
Ptak started Violet Cakes in East London in 2010 after moving to the city in 2005, according to the bakery's website. She previously worked as a pastry chef at a restaurant in Berkely, Calif., called Chez Panisse. She also runs a podcast out of the bakery in London called Violet Sessions, during which she speaks with "interesting women who do incredible things, exploring culture, creativity, work and lifestyle," as her website states. Do you think Meghan Markle would ever agree to do the podcast now that Ptak is making her wedding cake??
The Tig archives are unfortunately unavailable ever since the blog was disbanded following Markle's engagement, so we can't check out Markle's interview with Ptak. But if we're lucky, Markle will release the interview leading up to the wedding if she wants to let us learn a little more about the pastry chef.