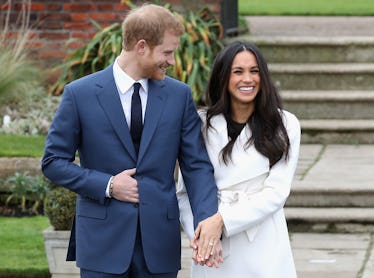 Prince William Roasted Prince Harry About His Engagement & The Video Is Adorable AF
Chris Jackson/Getty Images Entertainment/Getty Images
When news broke that Prince Harry of England and American actress Meghan Markle are engaged, the world rejoiced — including Harry's older brother the Duke of Cambridge, Prince William. But of course, siblings are siblings, no matter whether you're literal royalty or just, like, a family in the Cleveland 'burbs. Which is why William's well-wishes for Harry and fiancée Markle have us cracking up.
During an official visit to Finland on Nov. 29, William spoke to press about his younger brother's engagement. He said, "We're very excited and delighted for them both, and wishing them all the happiness at this very exciting time." OK, normal, run-of-the-mill congratulations. We're with you, Wills. Nicely done, you diplomat, you.
But then, as older brothers are wont to do, he quipped, "and for me personally, I hope it means he stays out of my fridge, and it'll stop him scrounging off of my food. He's done it for the last few years."
So clearly, William is just happy that he and the Duchess don't have to babysit his little bro anymore, and they'll finally be able to eat their own food. You know, like grown adults without a scavenging bachelor underfoot.
But I can speak from personal experience about the fact that William's desperate desire to keep his little brother out of his fridge will fall on deaf ears. How do I know? I, a married younger sibling, still rummage through my sister's fridge every time I visit her. It's practically the first thing I do when I enter her home, in fact. So William, sorry bud, you're kind of out of luck.
But other than the Duke's foolish hopes, he had very sweet things to say about the prince and Markle.
When the reporter said, "They look so much in love," William responded with a heartfelt answer. "Yes, absolutely, and it's a fantastic process to go through," he said. "The engagement, the build-up to the wedding. They've got a lot of happy times ahead of them in life. They are very caught up in the moment, and I wish them all the happiness and success in planning the wedding. I hope it goes really well." Awww.
There's almost nothing as touching as gentle teasing from a family member who is very proud of you. And, for what it's worth, Prince Charles, father to William and Harry, said in a very Prince Charles manner, that the news was "marvelous."
And in a more polished statement, one not brimming with the silliness of unprepared statements, William and wife Kate said that "it has been wonderful getting to know Meghan and to see how happy she and Harry are together."
William was not the only very famous person who wished the couple well. Former President Barack Obama, who has a well-documented friendship with Prince Harry, tweeted, "Michelle and I are delighted to congratulate Prince Harry and Meghan Markle on their engagement. We wish you a lifetime of joy and happiness together."
Harry's not the only half of the couple getting teased, though. Markle, an actress best known for the role of Rachel Zane on the American TV drama Suits, got her own ribbing when her onscreen love interest, Patrick J. Adams, jokingly tweeted that she just said she was going out for milk. Then he posted a more sincere congratulations to Instagram, in which he said, "playing Meghan's television partner for the better part of a decade uniquely qualifies me to say this: Your Royal Highness, you are a lucky man and I know your long life together will be joyful, productive and hilarious. Meghan, so happy for you, friend. Much love."
But, of course, there's something extra sweet about a brotherly ribbing. Especially when there's a speck of truth to it. After all, there's nothing more annoying than someone you love rummaging through your fridge and taking the exact leftovers you were going to eat later that night. Ugh. Siblings, amirite?
Jokes aside, there is happiness all around for the couple. Congrats, you crazy kids. May your love be steady and your refrigerator be forever full.