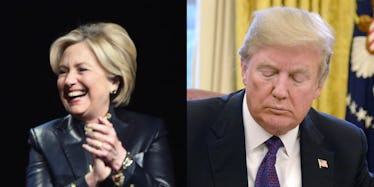 Hillary Clinton Made A Surprise Appearance At The Grammys To Roast Trump & It's Incredible
Alberto E. Rodriguez/Getty Images // Mike Theiler-Pool/Getty Images
It's award season and, sure, seeing which of your favorite actors and performers snag awards is fun, but the thing that always has people buzzing are those LOL moments. This year, with a full 12 months of President Donald Trump behind us, the awards shows are a time to try and crank some laughter out of our current political climate, and boy did we get it at the Grammys. Hillary Clinton was in the Grammys' Fire and Fury video audition video and stole the whole damn show!
With James Corden at the helm for the second time, everyone knew that Trump jokes were about to be aplenty. About a week before the Grammys, on Jan. 19, Corden parodied The Little Mermaid's "Part of Your World" on The Late Late Show, with his role as a captive Melania Trump longing to be free.
Corden didn't really come with the Trump jokes for most of the night, but towards the end he set up the pitch for Clinton to steal the show. He said,
We know that our current president does love winning awards, good news for him he might just be the subject of next year's winner. But who will be the narrator?
Leading into a Fire and Fury audition tape where Clinton made a cameo and everyone loved it!
The video joked that an audiobook of the already-infamous exposé about the Trump White House that was released earlier this year would be a shoo-in for next year's Grammys, and held "auditions" for who would read it. Among the contenders were John Legend, Cher, Snoop Dogg, and Cardi B.
But it was definitely the 2016 presidential candidate who took home the prize.
It was a perfect punchline, since the majority of the night went by without anyone really cracking any jokes until The Daily Show host Trevor Noah took the stage to present the award for Best Comedy Album. He started by saying that Cardi B and Bruno Mars' performance of "Finesse" took him back, "way back, to when Trump wasn't president … by the way JAY-Z, [Trump] sent you a message, he said we should inform you." Noah was referring to Trump's tweet earlier in the day clapping back at JAY-Z for his comments to Van Jones.
Twitter was very happy that someone showed up and finally poked some fun at Trump.
Of course, it wasn't just the show that mocked Trump.
Twitter had already been getting in on the roast.
It's no surprise that Trump was mocked at an awards show.
It's not the first time. On Jan. 7 Seth Meyers hosted the Golden Globes, a night filled with politically fueled humor, and more than a few jokes at Trump's expense. "We're all here courtesy of the Hollywood Foreign Press," said Meyers. "A string of three words that could not be better designed to infuriate our president."
Meyers followed it up by joking, "The only name that would make him angrier is the Hillary Mexico Salad Association." Burn.
And at the 2018 SAG Awards on Jan. 21, host Kristen Bell also got in a joke at First Lady Melania Trump. Noting that she was the "first lady" to host the SAG awards (also, first person in general) she jokingly announced that she would be taking on the cause of cyberbullying. "Because I haven't seen any progress on that," she quipped. (Cyberbullying was, famously, meant to be Melania Trump's cause as first lady.)
It's not surprising that Trump made it to the roast at this year's Golden Globes, SAG awards, and Grammys (and most likely for the upcoming Oscars on March 4). Trump is obviously on everyone's minds, as since the last award season he has reportedly called African countries "sh*tholes" (Trump denied using the word), issued a discriminatory travel ban, attempted his own "fake news" awards, tweeted about being a "stable genius," and helped shut down the government.
So you can't really blame hosts, attendees and even viewers at home for taking moments to poke fun at Trump's expense. Awards shows are great platforms for comment, whether in power or in humor.
Disclosure: Hillary Clinton's son-in-law Marc Mezvinsky joined Social Capital, an investor in Bustle Digital Group, in mid 2017 and joined the Board of Bustle Digital Group in early 2018.