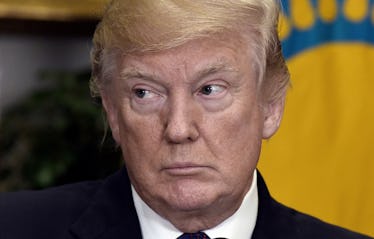 Donald Trump Underwent An Official Mental Checkup After All, & Here's What It Found
Pool/Getty Images News/Getty Images
With all the outrageous things President Donald Trump has done in his year as president, it's perhaps no wonder that multiple lawmakers, mental health experts, and journalists have questioned the president's mental health and cognitive capabilities. Following those extensive criticisms, the president seemingly had enough and decided to take a test to dispel the rumors. On Jan. 16, Donald Trump's mental health checkup results were released, finally putting those rumors to rest.
On Tuesday the White House doctor, Navy Rear Admiral Dr. Ronny Jackson, told reporters that Trump was physically and mentally capable of serving as president, according to The Hill. He said, "There's no indication whatsoever that he has any cognitive issues. I've found no reason whatsoever to think the president has any issues whatsoever with his thought processes."
He added that Trump's "overall health is excellent," which he credited as good genetics and lack of alcohol or tobacco indulgence.
Trump was reportedly given a test called the Montreal Cognitive Assessment (MoCA), an exam that screens for mild cognitive dysfunction and Alzheimer's disease based on cognitive capabilities such as attention and concentration, memory, language, conceptual thinking, and calculations. The highest score possible on the 10-minute assessment is 30, with anything above 26 being considered normal. According to Jackson, the president nabbed a perfect score.
Last week, Trump requested the test after various people questioned the stability of his mental health and sparked concerns of whether or not he is fit for the presidency — the most recent being Michael Wolff, the author of Fire and Fury: Inside The Trump White House, a recently published tell-all book about Trump and his administration.
In an interview that aired on CNN on Jan. 8, Wolff, the author of Fire And Fury, shared his personal experiences with Trump during the first few months of his presidency. When speaking about Trump's mental acuity, Wolff raised questions about the president's mental abilities. He said, "You don't have to be a doctor to find it notable and alarming — as everyone on his staff does — that he repeats, and repeats, and repeats the same thing, in the same conversation." Wolff added,
Because it's completely alarming. The guy can't go put one coherent sentence after another. He's off, he can't stay on subject, he can't stay on point — and then you come back to the same off-point thing he said five minutes ago, he's now saying it again.
Following the continuous criticisms, Trump took to his Twitter to counter the claims made against his mental acuity.
On Jan. 6, he wrote,
Now that Russian collusion, after one year of intense study, has proven to be a total hoax on the American public, the Democrats and their lapdogs, the Fake News Mainstream Media, are taking out the old Ronald Reagan playbook and screaming mental stability and intelligence.....
Trump referenced former President Ronald Reagan, who announced he had Alzheimer's disease in 1994 (five years after he left office). However, there are suggestions he was actually suffering from the disease while still in office rather than resigning from the presidency.
"Actually, throughout my life, my two greatest assets have been mental stability and being, like, really smart," Trump continued. He wrote,
Crooked Hillary Clinton also played these cards very hard and, as everyone knows, went down in flames. I went from VERY successful businessman, to top T.V. Star... to President of the United States (on my first try). I think that would qualify as not smart, but genius... and a very stable genius at that!
Trump's own assertions aside, many have questioned Trump's mental fitness to be president.
On January 9, Rep. Brendan Doyle of Pennsylvania introduced a Stable Genius Act, named for the president's own tweets, that would require presidential candidates to undergo a medical examination, including mental health check. And in July 2017, a violent tweet that the president posted had many on social media calling for him to be removed from office under the 25th Amendment, on grounds that he was incapable of fulfilling his duties. Even Trump's former friend, MSNBC host Joe Scarborough, called the president "not well" in an op-ed in December 2017.
Twitter reacted to the announcement with mixed feelings.
One user totally called out Trump over his perfect score, accusing the president of being fully aware of the "treason and crimes he is & has committed."
Another user said the debate over Trump's mental state should be over following his new results.
And some said this should put the whole argument to rest.
But others weren't having it and joked about the test's validity.
Hopefully those mental health experts, journalists, and lawmakers will have a bit more solace with the new results.