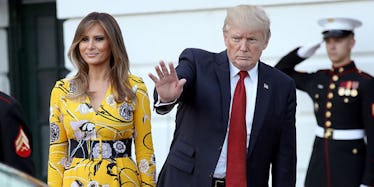 Donald Trump's Tweets Prove Melania's Anti-Cyberbullying Campaign Isn't Working
Win McNamee/Getty Images
The irony was too obvious to avoid.
After Donald Trump sent out a disparaging tweet about an MSNBC host's physical appearance, several media members were quick to point out incoherence of his actions and Melania Trump's stated mission in the White House.
The bottomline that these reporters sought to lay out was clear: Here was the president, tweeting out mean and rough words about someone, all while having a first lady who has vowed to combat the "too mean and too rough" culture of cyberbullying.
If you're wondering what the last three tweets, in particularly, were referring to, it was an apparent statement from the first lady's communications director, Stephanie Grisham, which read,
When her husband gets attacked, he will punch back 10 times harder.
The statement was relayed by CNN White House reporter Kaitlan Collins.
The defiance of the statement is, again, ironic, given how Trump went out of her way stress a campaign against personal attacks online.
Sure, on the one hand, the first lady had initially emphasized the particular cyber bullying of young people. She said during a speech last November,
Our culture has gotten too mean and too rough, especially to children and teenagers. It is never OK when a 12-year-old girl or boy is mocked, bullied or attacked. It is terrible when that happens on the playground and it is absolutely unacceptable when it's done by someone with no name hiding on the internet.
On the other hand, it's not exactly rare for people to look to the president of the United States to set an example. In fact, setting an example in basic decency is usually expected.
Fellow Republicans Ben Sasse and Lindsey Graham made that point clear in a couple of tweets directed at the president.
Regardless of what age group the first lady wanted to focus on in her efforts to combat cyberbullying, it's clear that the president's means of conflict resolution contradict her message.