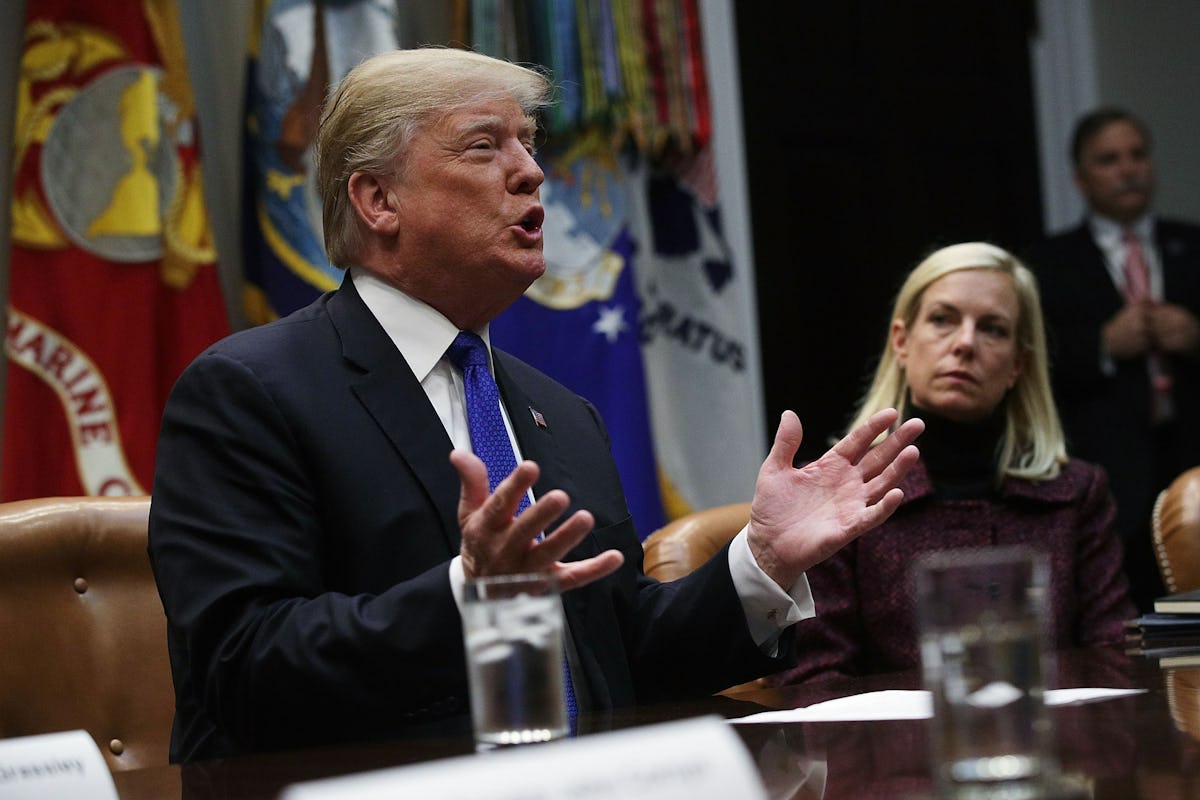 5 Shocking Bombshells From That New Trump Book Everyone's Talking About
Alex Wong/Getty Images News/Getty Images
On Friday, Dec. 5, a new book about life inside President Donald Trump's White House was released, and it's no secret why it became so highly anticipated within a short span of time. In the two days before the release of the book — titled Fire and Fury: Inside The Trump White House — a number of excerpts were published by The Guardian, The Hollywood Reporter, and New York magazine. Within those excerpts are a number of Fire and Fury quotes that show just why the exposé has drawn so much attention.
The book is written by Michael Wolff, a veteran journalist who has written to for Vanity Fair and USA Today, among other notable print outlets. Since the release of the book's excerpts, and, subsequently, the book itself, both journalists and Trump administration members have scrutinized his work.
President Trump especially has come against the book and Steve Bannon, who was quoted heavily in it. He put out a statement on Jan. 3 saying Bannon had "lost his mind" after leaving his job at the White House, and threatened to sue the book's publisher to block it from being published. Of course, there were also many angry tweets about it all, including Trump calling the book "full of lies, misrepresentations and sources that don't exist."
Here are some of the things that have got Trump so mad.
Bannon Calls Donald Trump Jr. Meeting "Treasonous"
The most notable of quotes that have surfaced from the book's excerpts made headline news on Wednesday. That was when The Guardian published a report on the book, citing quotes from Steve Bannon.
"The three senior guys in the campaign thought it was a good idea to meet with a foreign government inside Trump Tower in the conference room on the 25th floor — with no lawyers. They didn't have any lawyers," Bannon is quoted as saying within the book, referring to a meeting that Donald Trump Jr. accepted with a Russian lawyer, and attended with his brother-in-law Jared Kushner.
"Even if you thought that this was not treasonous, or unpatriotic, or bad sh*t, and I happen to think it's all of that, you should have called the FBI immediately," Bannon went on to say.
The reports of Bannon quotes prompted President Trump to release a statement rebuking Bannon, his former chief strategist, as a person who "lost his mind."
Wolff Claims Trump Likes Relationships With Friends' Wives
While the excerpt related to Bannon's view of Donald Trump Jr.'s meeting was a direct quote attributed to Bannon, Wolff's book features other claims that don't cite a specific source, but are just as salacious.
One of those claims relates to an alleged affinity on the part of President Trump for having relations with wives of his friends.
"Trump liked to say that one of the things that made life worth living was getting your friends' wives into bed," Wolff claims. "In pursuing a friend's wife, he would try to persuade the wife that her husband was perhaps not what she though."
The full paragraph of the book that featured this quote was tweeted by NBC reporter Katy Tur.
Wolff Claims Melania Trump Was "In Tears" On Election Night
On Wednesday, Wolff contributed large excerpt of his book to New York magazine, titled, "Donald Trump Didn't Want to Be President." Within that excerpt, Wolff claimed that President Trump expected to lose the 2016 election and that when he won, both he and First Lady Melania Trump were in shock.
Melania Trump, who had been assured by her husband that he wouldn't become president, could return to inconspicuously lunching. Losing would work out for everybody. Losing was winning. Shortly after 8 p.m. on Election Night, when the unexpected trend — Trump might actually win — seemed confirmed, Don Jr. told a friend that his father, or DJT, as he calls him, looked as if he had seen a ghost. Melania was in tears — and not of joy.
That specific claim was rebutted by the first lady's spokeswoman.
Bannon Says Russia Investigation Will Lead To Money Laundering Charges
Within The Guardian's report about Bannon's on-the-record quotes to Wolff, another quote is cited and features the former White House chief strategist telling Wolff that the Department of Justice's Russia investigation — led by former FBI director Robert Mueller, the special counsel — will ultimately focus on money laundering.
"You realize where this is going," Bannon is quoted as claiming. "This is all about money laundering. Mueller chose [senior prosecutor on Mueller's team Andrew] Weissmann first and he is a money-laundering guy. Their path to f*cking Trump goes right through Paul Manafort, Don Jr. and Jared Kushner … It's as plain as a hair on your face."
(Manafort was charged with money laundering and other counts as part of Mueller's investigation in the fall. On Wednesday, Jan. 3, Manafort sued the Justice Department for overreaching authority with the charges against him.)
Bannon is also quoted as saying, "It goes through Deutsche Bank and all the Kushner sh*t. The Kushner sh*t is greasy. They're going to go right through that. They're going to roll those two guys up and say play me or trade me."
Mueller recruited Weissman shortly after being appointed by Deputy Attorney General Rod Rosenstein.
Wolff Claims Trump Aides Question POTUS' Intelligence And Capacity For The Job
A recurring theme among excerpts from Wolff's book is passages that depict people close to President Trump viewing him as an "idiot" or something of the like. In one except, Wolff says billionaire Rubert Murdoch left one phone call with Trump and then called the president a "f*cking idiot".
In another passage, Wolff writes, "For [Treasury Secretary] Steve Mnuchin and [former chief of staff] Reince Priebus, he was an 'idiot.' For [economic adviser] Gary Cohn, he was 'dumb as sh-t.' For [national security adviser] H.R. McMaster he was a 'dope.' The list went on."
Wolff's book has been widely scrutinized, not only by the president — who has said the book is "full of lies" — but also fellow journalists.
In the interview below, for instance, The New York Times' Maggie Haberman tells CNN that basic points laid out in Wolff's book are flat-out incorrect.
Still, other journalists, like Axios' Mike Allen and Jim Vanderhei (Axios' founder) say the theme of Trump aides and advisers having contempt for the president is "absolutely right".
Allen and Vanderhei also say parts of the book are wrong, sloppy, or betray off-the-record confidence. In other words, take Wolff's work with a grain of salt (and some healthy skepticism).