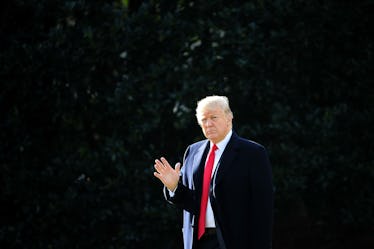 The Golden Globes' Donald Trump Jokes Are Going Hard Or Going Home
Chip Somodevilla/Getty Images News/Getty Images
Awards season has officially begun, and what better way to start off 2018 than with the entertainment industry's booziest night of the year: the annual Golden Globe Awards. On Jan. 7, the Globes celebrated their 75th year in business with Seth Meyers playing host, and it's been a highly anticipated show for more reasons than one. Not only was it an exciting year for film and television, the show also happened to coincide with the impending anniversary of Donald Trump's ascension as president of the United States. So we knew to expect a ton of cracks at Trump throughout the course of the night. And here, we present a roundup of the best 2018 Golden Globes Trump jokes from this year's show.
Even before the show started, Meyers teased what his plans were as host of the show in an interview with People. He said that while he'll spend most of his time mostly talking about the rampant sexual misconduct allegations that have dominated the headlines in 2017, political jokes are definitely not off limits. So it was expected that we'd hear a crack or two at Trump from Meyers and other celebrities throughout the night. And ooh, he definitely did not disappoint.
Meyers started off the night by addressing the rampant sexual misconduct allegations that have taken over Hollywood, but Trump jabs were not far off his radar. He joked that there are three words that Trump definitely does not enjoy seeing put together: "Hollywood. Foreign. Press," he stated, to roaring laughter from the audience.
Later on in the night, Meyers introduced the president of the Hollywood Foreign Press, Meher Tatna, with a very well-timed dig at Trump. "Please welcome a president who actually is a stable genius," he said. Meyers was of course referencing the explosive series of tweets that Trump posted where he asserts that he is mentally fit for office and a "stable genius."
People loved it.
There were also a couple of more subtle burns.
Like when Meyers welcomed Susan Sarandon and Geena Davis to the stage to present Best Performance by an Actor in a Motion Picture (Drama). He welcomed the two famous actresses as a pair who "have had the pleasure of doing what we've all wanted to do the last year — drive our car off a cliff!" Which is, of course, both a reference to the iconic ending of the pair's famous film Thelma and Louise, and also a reference to what a dumpster fire the first year of Trump's presidency has been.
And even Twitter got into the act, when they brought out the jokes about Trump's possible opponent should he run for reelection. After Oprah's already-iconic speech accepting the Cecil B. DeMille Lifetime Achievement Award, basically the entire world was like, "so, Oprah, you're going to run in 2020, right?"
I mean, I don't care who her opponent is. If Oprah's running, she has my vote.
Of course, the Golden Globe Awards are no stranger to roasting Trump.
During the 2017 show, jokes about our current sitting president dominated the show. Jimmy Fallon hosted that year's show, and started it off with a bang when he said, "This is the Golden Globes — one of the few places left where America still honors the popular vote." Burn.
And topping off the night last year was the great Meryl Streep, who gave a rousing speech after being presented with the Cecil B. DeMille Award for her "outstanding contributions to the world of entertainment." Without mentioning Trump's name, Streep absolutely destroyed him in a critical speech that tackled the then-president elect's disrespectful rhetoric and racism that colored his candidacy and campaign. In the speech Streep said,
Disrespect invites disrespect. Violence incites violence. When the powerful use their position to bully others, we all lose... We need the principled press to hold power to account, to call them on the carpet for every outrage. That's why our founders enshrined the press and its freedoms in our constitution.
Last year's Globes was before Trump was actually inaugurated, so the audience tonight expected Meyers and those accepting awards to tackle all of the embarrassing, disrespectful, and downright scary things that Trump has done since taking office. And oh, there's plenty. He's made racist comments toward minorities in this country, blamed the violence that was stirred by white supremacist groups in Charlottesville, Virginia on both sides, and has consistently proven himself to be pretty darn sexist.
So yeah, Meyers and all the celebrities being honored tonight had a lot of material to work with here.
If not even sitting in the highest office in the land can change Trump's behavior, there's little hope for what the rest of his tenure will look like. At least these awards shows can somewhat restore our faith in humanity by way of laughter. It's better than dealing with the crippling anxiety of uncertainty, am I right?