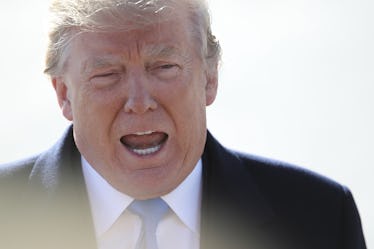 Trump Just Called Himself A "Very Stable Genius" & Twitter Is Making The Same Joke
Win McNamee/Getty Images News/Getty Images
While Donald Trump's Twitter account is shameful and — let's face it — so depressing, it provides for endless laughs, as well as widespread disbelief that he can somehow call himself our POTUS. And while his Twitter occasionally undergoes a (somewhat unfortunate) dry spell from conflicting hilarity, Trump's latest set of tweets almost seem like they came straight from the front page of The Onion. As an apparent response to Fire and Fury: Inside The Trump White House, a new book which makes claims against our president's sanity, Donald Trump's latest tweets about being "a very stable genius" are so bizarre — and everyone is honestly thinking the same exact thing.
Michael Wolff is a well-spoken journalist and author who recently came out with the book, which takes an inside-look into Trump's White House and into his personality. Wolff noted several (pretty widely-known) observations, that Trump is narcissistic and often in a state of mania. According to The Guardian, the White House has brushed off Wolff's book as "complete fantasy." Still, it highlights legitimate concerns about Trump's mental wellness as our president. The Guardian quoted an excerpt from Wolff's book, which says,
Everybody was painfully aware of the increasing pace of his [Trump's] repetitions. [...] It used to be inside of 30 minutes he'd repeat, word-for-word and expression-for-expression, the same three stories – now it was within 10 minutes. Indeed, many of his tweets were the product of his repetitions – he just couldn't stop saying something.
While the rest of the White House was quick to defend Trump's honor and his mental health, Trump obviously took to Twitter, because that's his answer to everything.
His manic tweets were not only ridiculous, but they also somewhat support Wolff's observations. As usual, Trump's defense was erratic, egocentric, and doesn't quite seem to prove his alleged "mental fitness."
While his first tweet is a relatively incoherent run-on paragraph, his evident defense techniques are wily. Trump brings back his classic, useless defense mechanism of "crooked Hillary," tries to convince us that he's "like, really smart" (not only smart, but a "genius"), and says he became POTUS on his first try.
Since his defense was... uh, completely outlandish and really freaking unbelievable, the Twitterverse had something to say about it... and the responses were all pretty in sync.
Just a rule of thumb: Anyone who tries to convince you that that they're mentally stable by insisting they're stable probably isn't. It's also safe to say that Trump's latest conquest to convince America that he's mentally sane — and apparently "a genius" — might not be working out for him.
Unfortunately, these aren't Trump's most unsettling recent tweets. Making international threats over Twitter, Trump made worrisome claims about North Korea's "nuclear button," and it was incredibly jarring.
In his tweet from Jan. 2, Trump threatens Kim Jong Un — along with the entire Korean and American populations — when he makes claims about both ours and North Korea's nuclear buttons. I'm sorry, but is this a TV show or is this real life? I think we were all shaking our heads in horror when he said, "I too have a Nuclear Button, but it is a much bigger & more powerful one than his, and my Button works!"
The moral of the story is that defending against claims of mental instability by going on a twitter rant probably isn't the best solution. And, avoiding nuclear war with a Twitter rampage is probably not an ideal option, either. Twitter rampages are pretty much never a fabulous idea, especially coming from the POTUS.