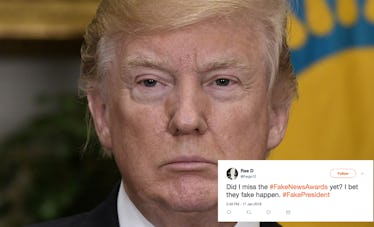 Donald Trump's "Fake News Awards" Are MIA & Twitter Is Trolling Hard
Pool/Getty Images News/Getty Image
Another day, another attack from President Donald Trump on the free press. Following Trump's early-January tweet discussing his intention to reveal the "most corrupt & biased of the Mainstream Media" on Jan. 17, we've been impatiently waiting for the winner to be announced. But with no word yet from the president, tweets about the Fake News Awards has Twitter asking if they're even happening at all.
Trump originally planned for the awards to be held on Jan. 8, at 5 p.m., but on Jan. 7 announced via Twitter that the upcoming "Fake News Awards" would be pushed back to Jan. 17. Well, the day has officially arrived and while Trump has been tweeting non-stop for the past half hour, there's been no word on the crowned "loser" or even a reference to "Fake News Awards."
At a Jan. 3 press briefing according to The Washington Post, questions were flying about what exactly this "awards show" will entail, such as the number of awards, a possible judging panel, and whether it will be televised (or maybe even live tweeted.) However, Press Secretary Sarah Huckabee Sanders left much to the imagination through her vague answers. She said,
I certainly don't want to spoil anything. But my guess is that there are quite a few individuals that could be up for those awards. We'll certainly keep you posted. It might be hard for him to present trophies if you guys aren't there. But I don't know, we'll have to wait and see what happens.
With no word from Trump even mentioning the supposed awards, Twitter is starting to speculate if this "Fake News Awards" is even legit.
Trump's coining of "fake news" has truly been one of the most famous markers of his presidency.
According to The Washington Post he's tweeted about "fake news" more than 150 times, having criticized a number of publications such as The New York Times and CNN. However, Trump took his "fake news" jargon to the very next level on Nov. 27, 2017 when he introduced the prospect of a "fake news trophy." Game changer.
Then, in true Trump fashion, things escalated when Trump's reelection campaign posted a poll titled "Crown the King of Fake News."
The poll asked people to "vote" for which mainstream publication they believe is the worst from "fake, faker, and fakest." The nominees of the poll include CNN, ABC, and TIME. Details of the publications' alleged "fake news reports" that landed them on the nominee list are also included. Such as,
ABC News "MISTAKENLY" reported that candidate Trump directed Michael Flynn to make contact with Russian officials before the election.
CNN "MISTAKENLY" reported that candidate Donald Trump and his son Donald J. Trump, Jr. had access to hacked documents from WikiLeaks.
TIME "MISTAKENLY" reported that President Trump removed a bust of Martin Luther King, Jr. from the Oval Office.
The announcement of Trump's "Fake News Awards" has resulted in both jokes and backlash from the public.
John McCain, Republican senator from Arizona and open critic of Donald Trump, posted an op-ed article in The Washington Post on Jan. 16. In the op-ed, McCain details his disturbance concerning Trump's "fake news awards", claiming Trump's dismissal of the media is "dangerous."
McCain writes,
President Trump does not seem to understand that his rhetoric and actions reverberate in the same way. He has threatened to continue his attempt to discredit the free press by bestowing "fake news awards" upon reporters and news outlets whose coverage he disagrees with. Whether Trump knows it or not, these efforts are being closely watched by foreign leaders who are already using his words as cover as they silence and shutter one of the key pillars of democracy.
Well even if a "loser" isn't crowned tonight, I'll be drinking a glass of champagne to the free press regardless. Cheers y'all.