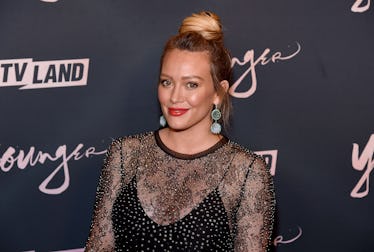 Hilary Duff's Major Hair Change Is Serving Lizzie McGuire Vibes & I'm So Here For It
Jamie McCarthy/Getty Images Entertainment/Getty Images
Listen up: As a die-hard Hilary Duff fan, I happen to think she looks fantastic at all times, but if I'm totally honest, I love her look the most when she's channeling her ultra-iconic Lizzie McGuire era. What can I saw, the nostalgia is real, so when I saw Hilary Duff's new platinum blonde hair, I immediately got excited. She's rocked blonde, brunette, and everything in between since her Disney Channel days, but her light locks are always my favorite, so I'm crossing my fingers she keeps her new dye job for as long as possible.
For quite some time now, Duff has been rocking bronde ombre strands — dark brown roots that transition seamlessly into a much lighter, buttery blonde — so when she took to Instagram to show off her latest locks, I was shocked, but instantly obsessed. She didn't just surprise us with a photo in her feed, though; in fact, she generously took us through the entire dye process via her Instagram Stories, which I have now watched around 15 times.
"''Twas a long long day but the mission was accomplished," Duff captions the end results, which serve icy platinum realness:
It wasn't an easy process to get this glam, though, as Duff details in her Stories. She went platinum at Nine Zero One Salon in West Hollywood, California, and credits hairstylists Nikki Lee and Riawna Capri for making it happen.
"You guys really love me, hey?" Duff asks the stylists in her Stories. "'Cuz this process is horrible!"
She then refers to her foils as "martian hair," which should be an official cosmetology term, because Hilary Duff says so:
When she reveals her hair, Duff finds herself unrecognizable, and jokingly suggests she needs a "new name" for her new look:
It's at this moment that I start screaming at my phone: "You don't need a new name, you need an old name, as in Lizzie McGuire!" Isn't it obvious?
The lighter locks give me major Lizzie vibes, if Lizzie had a 2018 glow up:
"Is it just me or or is Hilary looking a little bit like Ariana Grande in this photo," writes one commentor on Duff's post, another proclaiming "Gwen Stefani vibes going on!" While I respect their opinions, in the same breath I rebuke their comparisons. I'm sorry, people, but this look is full-on Lizzie, and that's the end of this discussion.
In her Disney days, Duff was blonde from root to tip, and she rocked it just as well back then as she does now:
Don't get me wrong — I loved her stint as a brunette, too, but mostly because it gave me Isabella vibes, à la The Lizzie McGuire Movie:
For years now, though, Duff has had one of the best bronde ombres in the game, so the jump to platinum is certainly a surprise:
What else is there to say? Lizzie McGuire was a hair icon, and I'm glad Duff is finally going back to her roots by dying said roots blonde. Long live her platinum look, and please excuse me while I go rewatch The Lizzie McGuire Movie in celebration of this major hair change.