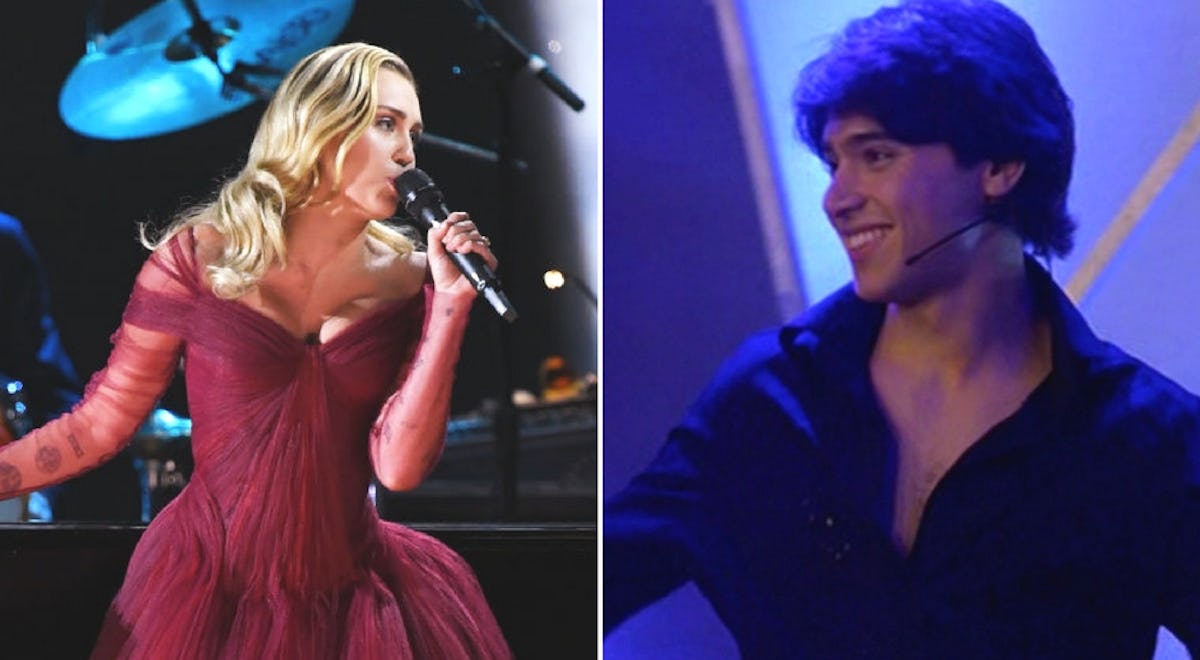 Hey Now, Miley Cyrus Sang "What Dreams Are Made Of" With Paolo From 'Lizzie McGuire Movie'
Kevin Winter/Getty Images, Disney
Hannah Montana may be dead, but Miley Cyrus proved that she still has some love for Disney recently. Over the weekend, Miley and her younger sister Noah Cyrus ran into none other than disgraced Italian pop music icon Paolo from The Lizzie McGuire Movie, actor Yani Gellman. And of course, the sisters did what any of us would do if we met Paolo: Miley Cyrus belted out the Lizzie McGuire Movie anthem "What Dreams Are Made Of" along with her sister, once again putting Paolo to shame.
In case you haven't seen one of the most iconic (and, admittedly, ridiculous) Disney movies ever, The Lizzie McGuire Movie was released in theaters in 2003, serving as the finale the Disney Channel series Lizzie McGuire. The movie revolved around a class trip to Rome, during which Lizzie McGuire (Hilary Duff) discovers that she bears a striking resemblance to an Italian pop star named Isabella. When Isabella's singing partner Paolo runs into Lizzie, he explains that Isabella broke up with him and left the country shortly before their big performance at the Colosseum, and convinces Lizzie to pose as Isabella so that the concert can still go on. Lizzie agrees to the plan, but as the concert is going on, it's revealed that Paolo lied and he actually lip-syncs — Isabella cuts Paolo's mic to reveal his terrible voice and then joins Lizzie on stage for doppelgäng-tastic duet of "What Dreams Are Made Of."
That song became iconic for everyone in the millennial generation, including Miley and Noah Cyrus apparently. Over the weekend, Noah Cyrus posted a photo of herself and her sister with Yani Gellman, the actor who played Paolo in The Lizzie McGuire Movie. She even captioned it with Isabella's scathing four-word drag from the movie: "Sing to me, Paolo."
But like any true Lizzie McGuire Movie fan, Miley and Noah Cyrus couldn't just stop with a picture; they also had to sing a bit of the song that exposed Paolo for the fraud he was. In her Instagram story that night, Noah shared a video of Miley and herself doing their best Lizzie and Isabella on an impromptu duet of "What Dreams Are Made Of." Check out the video for yourself below:
I'm here for it! Not only is any reminder of The Lizzie McGuire Movie and its gem-filled soundtrack always welcome, but this is particularly sweet little moment considering Miley Cyrus' past with Disney. Like Hilary Duff's starring role on Lizzie McGuire, Cyrus was another mainstay on Disney Channel in the '00s as the star of her series Hannah Montana.
But as Miley Cyrus began to transition out of her child star TV career into an actual pop star, she started to make it very clear that she wanted to completely cut ties with Disney. When she hosted Saturday Night Live in 2013, Cyrus told the audience that Hannah Montana had been murdered, and she reiterated the gruesome sentiment on the show's 10-year anniversary in 2016, specifying that her former character is "chopped up in tiny little pieces and buried in [her] backyard." She obviously had no interest in bringing back that blonde wig and reliving her Disney Channel days, but now it looks like Cyrus is totally down for belting some classic Disney Channel songs, as long as they're not hers, I guess.
I know that we are never going to see Hannah Montana again, but this little video of Miley Cyrus fully embracing one of the most beloved pieces of Disney Channel iconography should be more than enough to bring joy to any millennial fan nostalgic for the golden age of DCOMs.