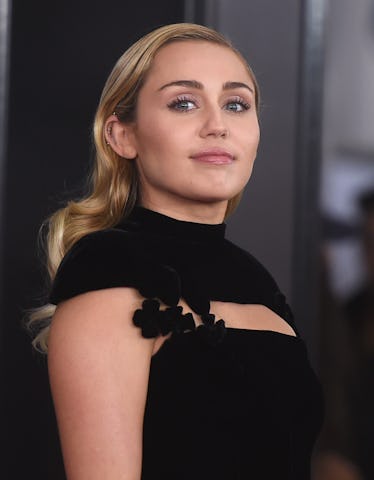 Miley Cyrus' Grammys Performance Look Is Not What You'd Expect & We're Here For It
Jamie McCarthy/Getty Images Entertainment/Getty Images
The Grammy Awards brought an amazing lineup of performers. This year seemed like the biggest and best lineup ever, and brought some truly unforgettable performances. One performance that fans absolutely loved came from Miley Cyrus and Elton John. It was definitely the brightest (and sparkliest) performance of the night, and fans can't get enough. Elton John and Miley Cyrus' Grammys performance has fans shook.
The dynamic duo took the stage and completely rocked it. A lot of anticipation surrounded which one of John's many, many, many famous songs he and Cyrus would perform.
Elton John kicked off the performance with "Tiny Dancer" (a classic) wearing one of his signature bedazzled suits. His particular color scheme of the evening was red, white, and blue. The lapels on his black suit sparkled with jewels and red rhinestones spelled "Elton" on the back of his jacket.
Miley Cyrus looked extremely elegant in a fuchsia, long-sleeved gown. Her hair was worn in big curls and perfectly polished. She looked very different from her usual beachy demeanor, but it was definitely working.
If your mom is like my mom, you may have heard a few scoffs before the performance about Cyrus as John's counterpart. People on Twitter were even comparing the duo to Lady Gaga and Tony Bennett.
But any doubts were proven completely wrong, because the performance was glorious and completely stunning.
Fans are shook over the performance.
Although Miley Cyrus wasn't nominated at this year's Grammy Awards, it was amazing to see her involved during the show in a big, big way. Elton John and Miley Cyrus performed one of Elton's classics during the Grammys, and that's not all she's doing to honor the legend. On Jan. 30, two days after the Grammys, Cyrus will be performing another tribute to John during the Elton John: I'm Still Standing- A Grammy Salute. The event will take place at Madison Square Garden in NYC. It's sure to be a stunning night chock-full of amazing talent.
It was great to see Cyrus performing such powerful songs, and it was a fantastic reminder of the killer pipes the singer is packing. Cyrus' newest album, Younger Now, has been very well-received by fans since its release. The question on everyone's mind is WHEN WILL THE TOUR HAPPEN?
Back in September, Cyrus sat down with Zane Lowe for Apple Music's Beats 1 Radio Show and gave the scoop on what she's planning. When asked about touring, Cyrus said, "Obviously when I tour, I like to do it right. I like to do it up. But also, that's not really what this record calls for necessarily, so I think I gotta take a break for a second to imagine..."
If you've seen footage from Cyrus' previous tours, she does it BIG. She mentioned that she needed time to "refill" and added,
It's very visual... I think I've just got to be able to get imaginative again because I think my imagination has ... I gotta refill myself. I've got to fill my brain back up with all the ideas. I've used so many of these ideas all year and I'm really putting myself out there, putting my heart and everything that I feel out on the line, just saying it, just constant letting people in ... before I can go and just have people want from me more, I gotta give back to myself for a second.
She continued,
I have to refill. I have to be full again, otherwise the fans and the audience, they're the best. They almost refill you in this way too because all that love for loving what you made is awesome, but they also take a lot because I've got to perform. I've got to give. And I've given so much of just letting people in that I gotta give back to me for a second. So yes, I've learned the art of saying no.
Totally understandable, but I'm also feeling impatient. It was amazing seeing Cyrus performing with Elton John, but I have a feeling we're going to be seeing a lot more of Cyrus this year.
Check out the entire Gen Why series and other videos on Facebook and the Bustle app across Apple TV, Roku, and Amazon Fire TV.