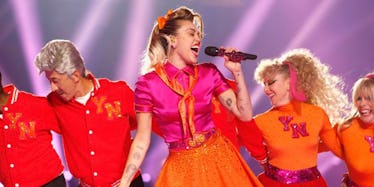 Fans Have One Question For Miley Cyrus After The Release Of Her 'Younger Now' Album
Randy Shropshire/MTV1617/Getty Images
Miley Cyrus just dropped her Younger Now album and it's (no surprise) totally amazing. Fans just need to know one thing: When will Miley Cyrus go on tour?
The good news? A tour is coming. The bad news? There are no firm details yet on when that's going to be, unfortunately. She has a good reason for that though.
In a new interview with Zane Lowe for Apple Music's Beats 1 Radio Show, Cyrus said that she isn't planning to hit the road and tour just yet, and instead wants to focus on herself.
When Lowe asked, "Touring... when does the tour start?," Cyrus answered, "Obviously when I tour, I like to do it right. I like to do it up. But also, that's not really what this record calls for necessarily, so I think I gotta take a break for a second to imagine..."
Cyrus noted that she has to "refill," explaining:
It's very visual... I think I've just got to be able to get imaginative again because I think my imagination has ... I gotta refill myself. I've got to fill my brain back up with all the ideas. I've used so many of these ideas all year and I'm really putting myself out there, putting my heart and everything that I feel out on the line, just saying it, just constant letting people in ... before I can go and just have people want from me more, I gotta give back to myself for a second.
She added: "I have to refill. I have to be full again, otherwise the fans and the audience, they're the best. They almost refill you in this way too because all that love for loving what you made is awesome, but they also take a lot because I've got to perform. I've got to give. And I've given so much of just letting people in that I gotta give back to me for a second. So yes, I've learned the art of saying no."
Fair enough. The singer also noted during the interview that she plans to have a bit of break, and next plans on "doing no work and hanging with my grandma."
Cyrus also discussed her involvement with her charity Happy Hippie, saying: "I first and foremost want to be known as a humanitarian, an activist and advocate for the animals. That's what I want to be known as, I want to be known as an activist."
The singer explained her ultimate goal and it's all about acceptance and love:
The reason why over half the homeless population is LGBT, or suicidal, going to sleep hungry overnight is because of the lack of acceptance. A lot of that comes from their friends, family, and communities not expanding their way of thinking and loving their ideology of what sexuality and gender means more than they love the person that is their daughter, their son, their grandchild.
She added: "I think people should accept and embrace and be stoked and excited about change, instead of having this stigma around it."
Fans have been hitting up Twitter hoping to get more Cyrus tour date info, with one fan giving the latest update: "MILEY SAID SHE JUST ISN'T GOING ON TOUR RIGHT AWAY BECAUSE SHE NEEDS TO TAKE TIME TO PREPARE IT. Y'ALL IDIOTS AND SCARED ME TO DEATH."
There was a bit of devastation, as you'd imagine, with one fan tweeting: "Wait...Miley won't make tour for younger now album? I was soo excited.."
Another fan noted: "I'll be first in line to get tickets for Miley's tour I'm her #1 fan."
And this fan summed up the vibe of a tour announcement perfectly:
It's understandable that Cyrus wants to take a second for herself to refuel, but hopefully she doesn't keep the fans waiting long on a tour announcement.
Check out the entire Gen Why series and other videos on Facebook and the Bustle app across Apple TV, Roku, and Amazon Fire TV.