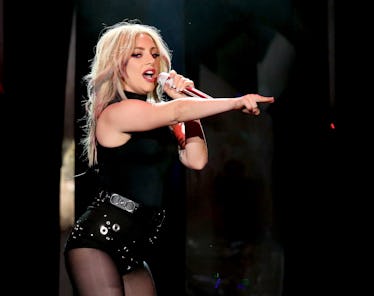 Here's How To Stream The 2018 Grammys So You Don't Miss A Single Thing
Christopher Polk/Getty Images Entertainment/Getty Images
For the first time in 15 years, New York will be hosting the Grammys and man, what a time to be alive. Taking place at New York City's Madison Square Garden and having The Late Late Show's James Corden at the helm as our host is basically setting this year's Grammys up for some epic memories. And if you're like me, you'll be damned if you miss any award show, especially the Grammys. And don't worry, you won't – thanks to us. We've got you covered, and will tell you how to stream the 2018 Grammys so that you won't miss one minute of your favorite artists looking – and sounding – incredible.
According to the Grammy's website, you can watch the Grammys on CBS, where they will be airing a "GRAMMY Red Carpet Live," which is labeled as a "live entertainment special hosted by "Entertainment Tonight's" Nancy O'Dell, Kevin Frazier, and Keltie Knight immediately prior to the 60th GRAMMYs broadcast." Ooh, can someone say fancy?
To tune in to the red carpet, just head over to E! at 5:30 p.m. ET, then switch channels to CBS at 6:30 p.m. ET. Then get pumped, because at 7:30 p.m. ET, the Grammys will officially start. Yay!
So what all of this means is basically, tune in to E! or CBS to watch your favorite artists – everyone from Bruno Mars to Lady Gaga – dressed in their Sunday's best.
And speaking of Lady Gaga, our girl will actually be performing at the Grammys this year, alongside artists like P!nk, Childish Gambino, and Little Big Town, so get your ears ready for some heavenly music.
Also NBD, but Patti LuPone, who is basically Broadway royalty, will be reprising her performance of "Don't Cry for Me Argentina" as a way of honoring composers Andrew Lloyd Webber and Leonard Bernstein, so be sure to have tissues on hand if you're the kind of person who becomes emotionally invested in songs (i.e. me).
Pattie LuPone is a queen, so don't ever get it twisted.
If you haven't gone through the Grammy nominations list yet, it's time for you to do a little brushing up. Here are some categories that are making some of the biggest waves (aka songs and albums that you know, love, and get stuck in your head on repeat):
ALBUM OF THE YEAR
Awaken My Love!, Childish Gambino
4:44, JAY-Z
Damn, Kendrick Lamar
Melodrama, Lorde
24K Magic, Bruno Mars
SONG OF THE YEAR
"Despacito" (Songwriters: Ramón Ayala, Justin Bieber, Jason "Poo Bear" Boyd, Erika Ender, Luis Fonsi and Marty James Garton)
"4:44" (Songwriters: Shawn Carter and Dion Wilson)
"Issues" (Songwriters: Benny Blanco, Mikkel Storleer Eriksen and Tor Erik Hermansen)
"1-800-273-8255" (Songwriters: Sir Robert Hall II, Arjun Ivatury, Alessia Caracciolo, Khalid Robinson, Drew Taggart)
"That's What I Like" (Songwriters: Christopher Brody Brown, James Fauntleroy, Philip Lawrence, Bruno Mars, Ray Charles McCullough II, Jeremy Reeves, Ray Romulus and Jonathan Yip)
RECORD OF THE YEAR
"Redbone," Childish Gambino
"Despacito," Luis Fonsi & Daddy Yankee Featuring Justin Bieber
"The Story of O.J.," JAY-Z
"Humble," Kendrick Lamar
"24K Magic," Bruno Mars
BEST POP SOLO PERFORMANCE
"Love So Soft," Kelly Clarkson
"Praying," Kesha
"Million Reasons," Lady Gaga
"What About Us," P!nk
"Shape Of You," Ed Sheeran
BEST POP VOCAL ALBUM
Kaleidoscope EP, Coldplay
Lust For Life, Lana Del Rey
Evolve, Imagine Dragons
Rainbow, Kesha
Joanne, Lady Gaga
÷ (Divide), Ed Sheeran
BEST RAP ALBUM
4:44, JAY-Z
Damn, Kendrick Lamar
Culture, Migos
Laila's Wisdom, Rapsody
Flower Boy, Tyler, the Creator
BEST COUNTRY ALBUM
Cosmic Hallelujah, Kenny Chesney
Heart Break, Lady Antebellum
The Breaker, Little Big Town
Life Changes, Thomas Rhett
From a Room: Volume 1, Chris Stapleton
You can't tell me that, after reading this list, you're not singing the lyrics to at least one of the above songs. Because this is me right now:
Looking at you, Kendrick Lamar's "Humble."
So find a comfy spot on your couch, grab some popcorn and a drink, and prepare yourself for the Grammys. I promise that nobody will judge you for using your wine bottle as a microphone to sing along.