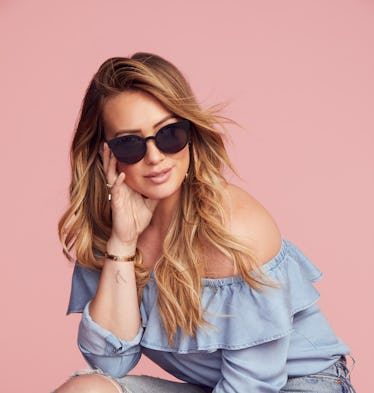 Hilary Duff Wears Glasses Instead Of Makeup & Scrubs Her Instagram Of Bad Vibes — EXCLUSIVE
Courtesy of GlassesUSA.com
Ah, Instagram, where the filtered-to-f*ck photos and #sponcon overfloweth — particularly in the feeds of actors, pop stars and other high-profile posters on a mission to boost their stats. Then there's Hilary Duff, who uses the platform to get real about balancing pregnancy, motherhood, working on Younger, wellness, and entrepreneurial endeavors (like her latest Muse x Hilary Duff Bold Capsule Collection with GlassesUSA.com).
If it looks like the multi-hyphenate is living her best life, it's because she actually is. Except her best life refreshingly reveals actual IRL struggles, like the occasional unhealthy food craving. How does she buoy an honest approach to wearing so many hats with such humor and a positive spin? Elite Daily asked the star to give us us a peek inside her phone for deets on her glasses design process, how she keeps her Instagram clean, and more.
She makes Instagram a shiny, happy place
For a platform with so many pretty pictures, there can be a lot of hate on Instagram — which is why Duff has taken a metaphorical sage stick to her feed, making it a positive and happy place with zero bad vibes. Her secret? The unfollow button.
"Honestly, I hit unfollow all the time," she says. "I'm constantly cleansing my account of things that make me feel icky or like I'm not doing enough. If it's friend of mine that I haven't been tight with who posts a bunch of stuff that makes me feel like I'm not a part of something or I see someone who is crazy edited, and they never post real versions of themselves? I'm not about that and I gotta go — because that stuff can make me feel judgemental and negative, which is not how I feel my best."
Also on the chopping block for Duff as of late: foodie accounts that don't inspire healthy choices.
"I'm toward the end of my pregnancy and feeling pretty good. I realized it's time to eliminate — just for now — the naughty things I follow because if I saw amazing desert, I would not be able to get it off my mind until I had something similar," she says.
The second rule to creating an Instagram utopia: Lose the guilt that comes with ixnaying accounts from your feed. "It's your page and your five-minute break to see the things you want to see," she points out. "That should feel good all the time." Accounts that have made the cut among the scant 600 or so that Duff does follow? Those that feature interior design, textiles, home renovations, parenting, and wellness (like a favorite of Duff's, Lee from America).
She's true to who she is — even when she's faking it.
Where other stars flock to fashion when trying their hands at design, Duff took an unexpected turn: creating eyeglasses and sunnies with an affordable ecommerce site. It's not that she doesn't love fashion or hasn't clocked time designing clothes (remember Stuff by Hilary Duff?), it's that glasses are way more her thing (even if she technically doesn't need them).
"I've worn glasses for a very long time and been very outspoken about not actually needing them [to see]. It's just a part of my style and vibe and how I think I look cool and how I want to present myself," she says.
Besides, according to Duff, glasses are one of the biggest statement-making accessories out there. "[With glasses], you're wearing something across your face and eyes — which is the first way you connect with someone," she points out. "There's no reason they shouldn't make feel sexy or stylish."
She draws inspiration from feminist icons and out-there design
When designing her Bold Capsule Collection, her second for her Muse x Hilary Duff Eyewear with GlassesUSA.com, Duff continued to look to feminist icons — like Joan of Arc, Stevie Nicks, and Red Cross founder Clara Barton — for inspiration. "It's about paying homage to women who paved the way in doing something really bold or fighting for something they believe in, being the forefront of change and helping women being seen as equals," she says.
Each frame style in both the capsule and permanent collections are named for such pioneering women. "As history has gone on, we have to pay thanks to those women who have — and continue to — push forward in knowing what you believe and standing your ground."
Another point of inspiration for Duff? A launchpad of completely bonkers colorways, embellishments, and shapes that were later refined for wearability. It all began with an "intense" Pinterest board that featured acid brights, along with some of the shapes and styles Duff herself likes to wear.
"When I first created my storyboard [for the collection], it went from pretty crazy and out there to being much more down to earth," she says, "I take on a risk with glasses I wear, but I also feel like my style is very reliable and reachable, so I tried to create a collection that's on the edge of fun and playful but also really fits into everyday life."
The result is styles that boast splashy colors but don't look out of step with an everyday wardrobe.
She's resourceful with her beauty look
"In my personal life right now I don't have a ton of time to do makeup. But there's here's an ease to throwing on a fun pair of glasses and not have to have your hair perfectly done or your makeup all on point," she says of creating an instant look with minimal effort.
In fact, Duff feels too overdone if she's wearing a full face of makeup and a killer frame. "I put a little bootie on and a jean and a vintage tee and my favorite frames, which are the yellow Anna frames right now, and I feel cool instantly, you know?"