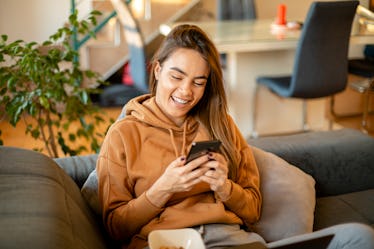 Your Partner's Body Language On FaceTime Dates Reveals So Much
Ivan Pantic/E+/Getty Images
Eyes darting away from you. Crossed arms. A smile that lights up their whole face. Leaning in to listen. As they say, actions speak louder than words — and all of these subtle physical cues can say a whole lot about how your boo is feeling. Fortunately, many of those signals translate on video chat, so if you're wondering what your partner's body language on FaceTime dates reveals, there's plenty to unpack. You don't even have to do all the decoding yourself — I talked to two experts to figure out what various gestures, movements, postures, and expressions indicate about where your SO is at.
Unfortunately, a virtual date doesn't offer all the same info an in-person one does. After all, being in someone's physical presence allows you a better read on their energy, and since you aren't limited to what you see in a camera frame, you may be privy to additional cues that can be super telling — like where their feet are pointed, or which direction their legs are crossed in (FYI: those both dictate where a person's attention lies). Still, you can get a strong sense of your partner's engagement in the conversation, mood/emotional state, and even interest in you by simply taking a deeper look at what's on your screen.
Here are some surprisingly revealing signals to look out for — and what they say about your SO.