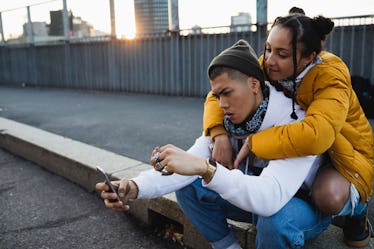 3 Signs Your Partner Is Distracted When They're With You & When To Be Worried
Fact: 10 out of 10 times I say anything, my partner's response is: "What?" I glare. Then they say, "No, seriously, say it again please." So, fine, maybe 10 out of 10 is an exaggeration, but this scenario plays out a lot in our house. I've learned that if I don't reply, they're usually able to rewind their mental tape and remember what I said. That's because they weren't ignoring me, their mind was just somewhere else, and asking for an instant replay is one of the most common signs your partner is distracted when they're with you.
It used to really get on my nerves and even hurt my feelings, because it felt like they were just not present or that interested in what I had to say. But what I came to understand with time was that it really wasn't about me. They just had a lot on their mind — pressure from work and bills and all that grownup stuff that seems to fill up your mind more and more as you get older. But still, you can't blame me for being a bit worried, because sometimes, that distraction can mean something else — something more concerning. The key is to know the difference. I reached out to bestselling author and relationship expert Susan Winter to break down the signs your partner is distracted, and got some advice on what do about it. Here's what she says.