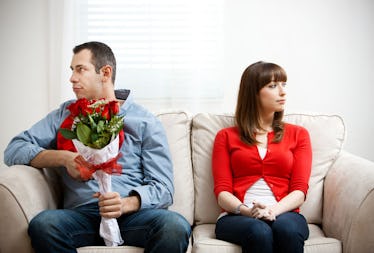 6 Body Language Clues Your Partner Might Show When They Lie, Because Everyone Has Tells
Being lied to sucks, plain and simple. Whether it's a friend, a family member, or your significant other, there's a specific feeling of betrayal that comes with someone being dishonest with you. Now, if you're in a relationship, and you're afraid that your significant other isn't telling you the truth, then these body language clues your parter is lying could help out.
The thing is, there's a good chance that you'll deal with moments in your relationship when you feel like your partner isn't being completely honest. It's unfortunate, but it's best if you know. And it isn't always a bad thing. For instance, the two weeks before my fiancé proposed, I had a gut feeling that something was off, and that he wasn't telling me something. Obviously, I was right, but I'm kind of OK with the diamond it resulted in.
While your suspicions might be correct (whatever your partner's lying about), it can't hurt to have some more knowledge on the matter. That's where body language experts come in. Because seriously, the human body is fascinating, and there are actually a lot of clues you can observe in movement and posture that are signs someone is lying. In her book How to Detect Lies, Fraud and Identity Theft, body language expert Traci Brown explains how you can detect dishonesty. "It takes a lot of thinking and energy to lie," she wrote in her book. "That's the reason body language can be relied on to indicate deception. Words are the easiest to control, much less so for tone and body language."
So, here's what to look out for when you're playing your own lie detector.